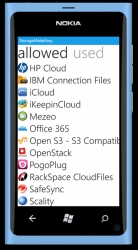 London, United Kingdom, December 06, 2012 --(
PR.com
)-- Storage Made Easy have again updated their Cloud File Manager Application for the Windows Phone and have now made the App free for anyone with a Windows Phone 7 or 8 device.
Storage Made Easy provides a hosted or on-premise service that unifies storage clouds for easy management and aggregated search of structured data whilst adding capabilities such as audit, governance, e-compliance and Bring Your Own Device and promoting
secure business file sharing
across a companies data estate.
The Windows Phone is just one of the mobile access clients that SME supports. Also supported are Android, iOS and BlackBerry as well as Mac, Windows and Linux on the desktop.
The Windows Phone client can be used standalone as a great way to tie together public storage Clouds such as DropBox, Box, Amazon S3, RackSpace, OpenStack etc whilst also catering for Private Storage Clouds such as FTP and WebDav.
All clouds added are visible in a single unified Cloud File System and can be interacted with for easy sharing of data using links or email, whilst also interacting with device data that can be moved onto different clouds, and the cloud data itself can be copied between clouds in-app.
The App also has a sophisticated sync feature which enables a two way sync between multiple clouds and the Windows Phone device.
Users can choose to register with server infrastructure in Europe or the USA. This promotes better speed for users in different regions and as no data is shared between server infrastructures ensure that regional data legislation can be honoured.
The App is free and features the ability to add 3 Clouds from any of 35 supported Clouds plus 5GB of storage hosted on Amazon S3. Plans can be upgraded to
Personal
or
business editions
from the Storage Made Easy website.
The App is free and can be
downloaded and installed
from the Windows Marketplace.