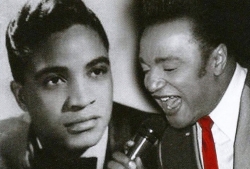 Nashville, TN, December 05, 2012 --(
PR.com
)-- Critics on both sides of the Atlantic continue to heap praise on It's About Time, the brand new release from Bobby Brooks Wilson. From the UK, Juke Blues Magazine reviewer Ray Ellis says, "Bobby Brooks Wilson's vocal similarity to that of his father Jackie Wilson is quite remarkable: his passion and fortitude on this finely tuned set of well-known songs and original material is only matched by his fascinating story as revealed by Motown PR guru Al Abrams."
Sharon Davis of SoulMusic.com says, "Am listening to the CD now and my first impression is one of OMG! Bobby has a rich commanding voice and I love the full support vocals. It's sophisticated and spine tingling in places, particularly when he covers Jackie's originals. Although having said that I particularly love 'I Can't Love You Anymore.'"
LA based music journalist Larry Buford in his review for EURweb.com declares, "They say he's the son of legendary singer Jackie Wilson. After seeing his photo and listening to just the first few songs on his CD I don't care if he is or not, Bobby Brooks Wilson (BBW) looks and sounds like Jackie reincarnated, and that's something very refreshing for today's music scene – a real true, distinguishable singer! No over-produced and overwhelming production – just some finely crafted musicianship with a Southern Soul flavor that's been absent for too long..."
The brainchild of Plateau Music's Tony Mantor, It's About Time features a unique mix of new songs and classic R&B. While a four song EP is currently available through iTunes (with release of the full 12 song CD audio package scheduled for a 2013 release), the full 12 song CD packaged with The Jackie Wilson Family Scrapbook, a special limited production commemorative collector's item booklet featuring text by Al Abrams along with rare and never before seen photographs, is available exclusively from Plateau Music by logging onto their website and clicking the Cool Stuff button.
But it is not just the critics that are talking about It's About Time. After hearing the CD, Paul Nixon the creator of Cellarfull of Motown and Motown Anthologies said, "Somewhere up in 'soul heaven' the late great Jackie Wilson must be as proud as a peacock over his long lost son, Bobby Brooks Wilson who through various reasons never knew his father. Following in his father's footsteps, Bobby who sounds uncannily like his pop releases the album, It's About Time. Overcoming personal tragedies that read like a work of fiction, Bobby sings some of his father's finest moments such as 'I Got The Sweetest Feeling,' 'Higher and Higher,' 'Lonely Teardrops,' and an amazing version of Otis Redding's 'I've Been Loving You Too Long.' How apt it the title of this album for it truly is About Time."
Legendary performer Bill Medley (The Righteous Brothers) weighs in with "Great production, great vocal, great songs, I'm really proud of Bobby." From her home in Essex, England, Suzi Quatro (The Pleasure Seekers, Cradle) says, "I have listened to Bobby's CD...and enjoyed it very much... shades of Jackie for sure, but still pure Bobby. He will definitely keep the 'Wilson' torch burning bright."
For more reviews and comments about It's About Time go to www.plateaumusic.com and click on the Reviews page.
When not on the road performing, Bobby is writing his autobiography detailing how this U.S. Navy veteran's uncanny ability to not only sound like the late great Jackie Wilson but to mimic him in mannerism and even speech lead to a series of events that culminated in his discovery that he had come by his ability to replicate Jackie Wilson quite naturally…because the elder Wilson was actually his father.
Bobby Brooks Wilson is scheduling media appearances for 2013 to share his compelling story. Contact Tony Mantor for availability.
For More Information Contact:
Plateau Music
Tony Mantor
615-379-1068
tony@plateaumusic.com
Thompson Entertainment Group
Chuck Thompson
615-742-8004 x2
cthompson@thompsonentertainmentgroup.com