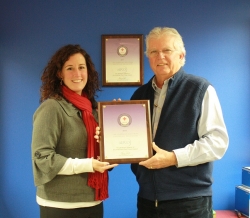 Salem, NH, December 12, 2012 --(
PR.com
)-- A month after Hurricane Sandy hit the East Coast the effects of the storm are still felt throughout communities in New York and New Jersey. Although power has been restored in these areas, families are still left without shelter, food and other necessities. The American Red Cross has worked to provide these supplies to the affected families, including 7.4 million meals and snacks and 5.2 million relief items like hygiene and clean-up kits. In addition to this, the Red Cross has given more than 86,800 health and mental consultations to Hurricane Sandy victims.
In a bulletin released by the Red Cross last month, they outline the ways in which the organization's caseworks assist survivors not only through providing basic supplies and necessities, but also through recovery services like mental health counseling. The Red Cross also thanked their supporters for their continued generosity and compassion throughout the aftermath of Hurricane Sandy in the bulletin.
Last month, Stephanie Couturier, Chief Development Officer at the American Red Cross, presented Richard Conley, owner of ALPCO Diagnostics, with a plaque in recognition of the company's donation toward the Red Cross' Hurricane Sandy relief efforts.
"ALPCO is pleased to support the American Red Cross," stated Mr. Conley regarding the company's donation. "Hurricane Sandy devastated many families throughout New York and New Jersey, and with the cold winter months fast approaching, the need to help now is greater than ever."
"We are very grateful to our donors like ALPCO in these times of need," comments Stephanie Couturier. "All of our services begin with donations, and wouldn't be possible without the help we get from these generous organizations and individuals."
About ALPCO (American Laboratory Products Company)
ALPCO was founded in 1991 and is located in Salem, NH. Since that time, as an importer, distributor and manufacturer of high quality research immunoassay kits, their primary goal has been to offer a diverse product range that will appeal to their broad scientific customer base, while also providing exceptional customer and product support. ALPCO has partnered with more than forty manufacturers and has grown its distribution network throughout North America. Please visit
www.alpco.com
for more information.
About the American Red Cross
The American Red Cross shelters, feeds and provides emotional support to victims of disasters; supplies more than 40 percent of the nation's blood; teaches skills that save lives; provides international humanitarian aid; and supports military members and their families. The Red Cross is a not-for-profit organization that depends on volunteers and the generosity of the American public to perform its mission. For more information and to make donations, visit
www.redcross.org