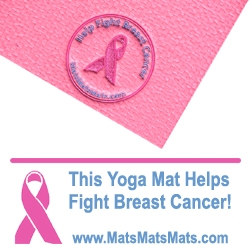 Woodland Hills, CA, July 25, 2007 --(
PR.com
)-- A socially conscious online business is helping to raise awareness and raise money to help the fight against breast cancer. MatsMatsMats.com designed a Pink Yoga Mat with a round "Help Fight Breast Cancer" logo (3" diameter) elegantly embroidered into one corner of the mat.
This yoga mat is not only a high quality mat in a cool color, but also raises awareness of the prevalence of the disease, and MatsMatsMats.com donates 10% of every purchase to The Breast Cancer Research Foundation (BCRF). BCRF was selected as the charity to receive the donations because it guarantees that a minimum of 85% of all funds raised go directly to research and treatment of breast cancer.
While October is "Breast Cancer Awareness Month," breast cancer is a year-round fight – therefore, MatsMatsMats.com continues to sell its "Help Fight Breast Cancer" Yoga Mat to raise awareness and money throughout the year.
Yoga is increasingly being used as a form of Breast Cancer Therapy, and there are a growing number of instructors and yoga classes specifically dedicated to breast cancer survivors.
Breast Cancer patients utilize yoga to improve their mind, body and spirit. Yoga helps to reduce stress as well as increase strength, flexibility, energy, balance and concentration. It helps to alleviate chronic pain and aides in the relief of back and neck pain.
Yoga offers cancer patients relief from the stress of treatment, while also assisting with the rehabilitation of their weakened bodies. In fact, at the country's most prestigious cancer centers, yoga mats and other yoga products are a common sight. Yoga has become an increasingly popular part of cancer wellness programs both in professional rehabilitation programs as well as in the privacy and comfort of patients' homes.
For additional information about The Breast Cancer Research Foundation go to: www.bcrfcure.org or call 646-497-2600.
For additional information or to purchase the Pink "Help Fight Breast Cancer" Yoga Mat simply go to: www.MatsMatsMats.com/pink
Or call MatsMatsMats.com toll free 877.777.6287.
###