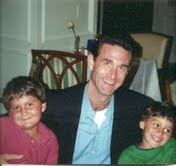 Boston, MA, December 21, 2012 --(
PR.com
)-- Statement by Colin Bower on the nomination of John Kerry for Secretary of State:
"I applaud the appointment of Senator Kerry to become the next U.S. Secretary of State. We are fortunate to have someone of Senator Kerry's international experience and gravitas to move into this position. I look forward to continuing to work with the Senator in his new role, and hope one of his first acts is to bring my two American boys home.
"The Senator has been working both as Chairman of the Senate Foreign Relations Committee, and also as Noor and Ramsay's Senator, to bring home Noor and Ramsay since they were kidnapped in 2009, including the passage of a Senate Resolution, discussions with deposed President Mubarak and meetings with current Egyptian leadership.
"I also appreciate all the work the Secretary Clinton, current State Department personnel and Members of Congress from both sides of the aisle, have undertaken to bring home Noor and Ramsay. But unfortunately, our job is not finished. President Obama himself recently said that protecting our children is our first task and that the only thing we can be sure of is the love we have for our children. Although we may be separated by miles and circumstances, the love for my children has never wavered and is my hope that the Senator can end this nightmare after 40 months and bring my boys home as one of his first acts as Secretary. While all these cases are horrible for the children involved, none of these cases is the same, and each needs to be dealt with particular to its facts."
Colin Bower was awarded sole legal custody of his two boys in December 2008 following a lengthy divorce trial in Boston, MA. Eight months later, Mirvat el Nady used false Egyptian passports in made up last names and cash to purchase emergency tickets on EgyptAir to kidnap the boys to Egypt. The children have been kept in Egypt since that time.
U.S. Senate Resolution:
www.kerry.senate.gov/press/release/?id=1dacbaba-f9de-4261-8f80-4262e239be30
U.S. House of Representatives Resolution 193:
http://www.facebook.com/HelpBringNoorRamsayHome/app_190322544333196
For more information about the boys:
www.helpbringnoorandramsayhome.org
To talk to Colin Bower, please email:
helpbringnoorandramsayhome@gmail.com