NYC Mold Inspection Company, Five Boro Mold Specialist Inc., Offers Hurricane Sandy Mold Removal Service Package
Five Boro Mold Specialist Recently renewed their registrations with local, state, and government level emergency agencies in light of the recent reports of rampant toxic mold growth in NYC and the Five Boros.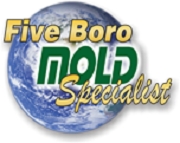 New York, NY, January 03, 2013 --(
PR.com
)-- New York City Mold Companies and Hurricane Sandy
New York Mold Company Adopts A Multidisciplinary Approach To Mold Removal In Light of Hurricane Sandy Flooding.
Five Boro Mold Specialist, a leader in the NYC mold remediation industry, adopts a multidisciplinary approach to mold assessment, abatement, and removal. No company has ever taken the removal of mold more seriously as they understand the need for a multi pronged approach to unequivocal mold removal, especially after Hurricane Sandy flooding. It is important to know whether the moisture intrusion is chronic according to a spokesperson for the company. One-time occurrences are treated very differently from chronic moisture intrusion problems.
Adopting an interdisciplinary approach means that several methodologies such as HEPA vacuums, air scrubbers, thermography, infrared imaging and baking soda blasting will all become ingrained as procedures in the protocol for mold removal and eradication. The overall goal of this procedure is to improve overall air quality and keep it within safe standards set by the Environmental Protection Agency.
The use of HEPA filtration in conjunction with air scrubber technology puts Five Boro Mold Specialist at the forefront of cutting edge methodologies being adopted by mold removal experts today. The goal of mold abatement is to prevent mold infestations in the future. With the company's commitment to ensuring that future mold outbreaks are avoided, they also give customers a generous warranty.
A spokesperson for Five Boro Mold Specialist stressed that no matter what the scope of the work involved was, these mold abatement experts would provide a customized plan for mold removal designed with that specific property in mind. This meticulous approach along with the use of multidisciplinary technologies for permanent mold removal makes the company a household name when it comes to dealing with fungal infestations.
The goal of the
NYC mold inspection
company has always been to provide the quickest possible relief for home and business owners and freedom from mold so that they may return to their normal lives. This mission has stood the company in good stead as they constantly revamp their protocol with newly emerging technologies.
Five Boro Mold Specialist also stated that they have recently updated there registration status with local, state, and federal emergency services for Hurricane Sandy relief efforts.
Contact
Five Boro Mold Specialist
Motti Katz
718-677-6653
http://fiveboromoldspecialist.com

Contact
Multimedia
NYC Mold Inspection and NYC Mold Removal Services Brochure