Money for Business Loans Availability Predicted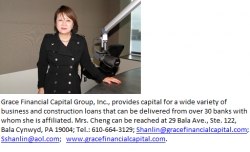 Bala Cynwyd, PA, January 09, 2013 --(
PR.com
)-- A financier of 20 years' experience delivering capital to medium size businesses, and smaller entrepreneur operations has predicted 2013 will open up in the third quarter for operations those sizes for loans up to a million dollars.
"However, banks will continue to be very careful and stingy for small business loans," according to Shanlin Cheng, president of Grace Financial Capital Group, Inc., 29 Bala Ave., Ste. 122, Bala Cynwyd, PA (www.gracefinancialcapital.com).
She feels interest rates will continue as is, and "be very competitive."
"The industries that will be attractive to lenders include construction for new apartments, manufacturing, large laundromats, and mortgages for first homes," she adds.
Generally, business conditions will improve during the first six months of 2013, she feels, based on reports from the Federal Reserve Bank of Philadelphia.
Increases
"Their research shows overall increases in activities especially employment, and new orders."
"Receivable collections will be difficult for many businesses," Ms. Cheng says, "but, that will boost income for factoring firms."
Ms. Cheng's delivering of capital to a wide variety of commercial, construction multi-unit apartment complexes, restaurants and startup/expansion entrepreneurs typically is from $500,000 to $10,000,000.
Note to Editor: Ms. Cheng is available for interviews. Contact her at 610-664-3129; Shanlin@gracefinancialcapital.com; Sshanlin@aol.com.
Contact
Grace Financial Capital Group, LLC
Joe Ball
484-562-0060
www.gracefinancialcapitalgroup.com

Contact