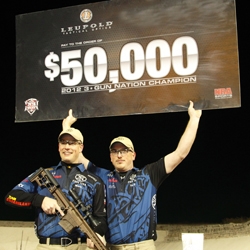 Las Vegas, NV, January 11, 2013 --(
PR.com
)-- Shooter ready? Stand by. And it's a dash for the cash. $50,000 Cash that is. On Wednesday, January 16, one man will stand tall as the 2012-2013 3-Gun Nation (3GN) Champion and will be $50,000 richer courtesy of Leupold Tactical Optics and NRA Sports. The cash payout represents the largest prize in all of practical shooting.
3GN's second annual "Rumble on the Range" is held in conjunction with the NSSF SHOT Show, which runs Jan. 15-18 at the Sands Convention Center in Las Vegas. The event is the culmination of the 2012 FNH USA 3-Gun Nation Tournament Series, presented by Federal Premium Ammunition, and will be held at the Clark County Shooting Park from 6-9 pm.
The top 30 competitors from the tournament series will go head-to-head in a seeded elimination bracket "Shoot-Off," in which the shooter to successfully complete the course of fire first will be named the winner. With each round of competition, competitors are eliminated until the final two square off for the $50,000 cash prize.
"We are very excited and happy to hold our event at the Clark County Shooting Park again this year," said 3-Gun Nation President Pete Brown. "Our tournament series and championship event demonstrates that the sport of 3-Gun is a safe, responsible way to use firearms for sporting purpose."
The sport of 3-Gun uses semi-automatic rifles, pistols and shotguns in courses of fire that are timed for speed and accuracy. Over the course of a typical 3-Gun match, competitors will face a series of "stages" in which points are gathered to determine the match winner. During the 2012 season, 3GN held five (5) qualifying points matches across the country to determine the final 30 for the Las Vegas event.
"Our shooters come from all over the United States to compete at our events," said 3-Gun Nation Vice President Chad Adams. "The 3GN tournament series is comprised of some of the very best athletes the shooting sports has to offer, and this event will not only test their shooting skill, but ability to perform under pressure in front of a massive SHOT Show crowd."
Tickets to the event are available at the SHOT Show; however, the event is open to the public to attend. The event will be filmed for national television and will also feature a live performance by country music star Mark Wills.
For more information about the event or the 3-Gun Nation tournament series visit
www.3GunNation.com.