Wysiwatch, the Personalized Gift for Valentine's Day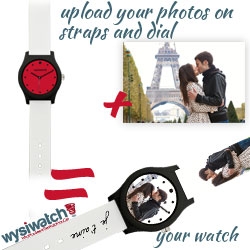 London, United Kingdom, January 22, 2013 --(
PR.com
)-- Valentine's Day is often synonymous with roses, chocolates...
To think outside the box, the Wysiwatch customizable watch is the unique and original gift.
Wysiwatch helps you to be ready for Valentine's Day. This year, add a touch of originality with the Wysiwatch watch. The 7 parts of the watch (case, hour markers, hands, loop...) are customizable with colors and more, straps and dial can be personalised with personal photos, ideal to put photos of the your love and you and memories of honeymoon, of betrothal or of marriage.
Wysiwatch has 2 models of watches. S model (for small wrists 33mm diameter) and a XL model (40mm). Ideal for creating the same watches for your love and you.
Lack of time or ideas?
Do not panic, Wysiwatch has created a collection highlighting the world of Valentine's Day. Based on ribbons, kisses or hearts in red, purple or pink. Find Kiss & love collection is available on the brand website.
Prices: from 38 to 54 euros (from $50,60 to $71,90) for the model S and 45 to 59 euros (from $59,90 to $78.55) for the XL model.
Additional Info:
Wysiwatch is a watch brand founded in November 2011. This young brand is made ​​in France. The watches are fully customizable online with colors, designs and personal photos. Shipping around the world.
Contact
Wysiwatch
Gilles Fagu
333 818 196 31
http://www.wysiwatch.com/en

Contact
Multimedia
Wysiwatch Is the first fully customizable watch. Straps, hands, loop or dial, nothing is left to chance. Everyone is free to choose the graphic design, Photos and colors of the 7 elements that will make up your watch.