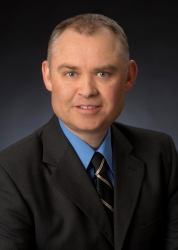 Denver, CO, January 23, 2013 --(
PR.com
)-- Higgins, Hopkins, McLain & Roswell is pleased to announce Bret L. Cogdill as Special Counsel (effective from January 1, 2013).
Bret is a 2001 graduate of the University of Denver, College of Law and was awarded an internship with the State Department, serving at the U.S. Embassy in Sarajevo, Bosnia & Hercegovina. After graduating from law school, Bret served in the U.S. Army as an officer in the Judge Advocate General Corps. Since joining the firm in 2005, Bret has concentrated his practice in civil construction defect litigation and has represented developers and general contractors in several cases involving large, multi-family developments.
David McLain, co-founding member of the firm stated "Bret is a valuable team member at our firm and provides seniority and insight into complex litigation matters." Co-founding member Sheri Roswell also commented that "Bret's abilities at negotiating settlements is unsurpassed and the ease in which he manages our clients cases makes us proud to have him be Special Counsel to HHMR."
About HHMR:
HHMR exists to embody and exemplify the principles of service and stewardship. In everything we do, the primary focus is on serving our clients selflessly and to the best of our ability. In doing so, we always have in the forefront of our minds our obligation to act as the stewards of our clients' trust, confidences, and resources. HHMR is dedicated to serving the legal needs of developers, general contractors, and other construction professionals throughout Colorado, both in direct retention relationships and as assigned insurance defense counsel.