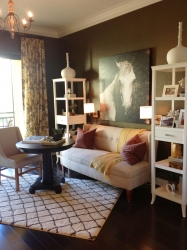 Naples, FL, January 31, 2013 --(
PR.com
)-- Interior design heavy-hitters Beasley & Henley Interior Design have installed their latest model for WCI Communities, the Marquesa Royale II, in their Tiburon development, Naples, Florida.
This is Beasley & Henley's second Marquesa model design at Tiburon.
During the 4-day furnishings installation of this 2,950 sq ft condo model, clients, community representations and potential buyers stopped in to view the emergence of the completed design and to visit with the designers.
"We enjoy talking with the guests and answering their questions," says Beasley & Henley Principal Designer, Troy Beasley.
Beasley & Henley, with offices on Tamiami Trail in Naples and in Winter Park, is known for its sophisticated, livable, and inspiring interiors.
This latest Beasley & Henley's luxury condominium attracts a wealthy European and American buyer. The sophistication is reflected in the interior design which incorporates an easy transitional style and an overall palette of warm greys and crisp whites, with dramatic pops of coral and aquas. The Great Room emphasizes two seating areas that put the emphasis on entertaining. Two low sofas are a perfect location for TV viewing on the wall mounted television, while four club chairs are the well placed to share a glass of wine and a conversation.
These main zones are connected visually to make moving about feel natural and effortless.
The Master Bedroom with its exquisite wood floors is soothing and sophisticated with a fully upholstered bed and his-and-hers dressers. The Study is a true stunner with its rich chocolate walls and wood floors. It also has a sofa, painted bookcases, and a high table that provides a great place to pull up a chair and work on your laptop. Two carefully appointed Guest Suites complete this home, which anticipate the needs of the homeowners, visiting, family and friends.
For additional information on the design of this model, or for custom designs, please contact Stephanie Henley at 239.774.1005.
Beasley & Henley, with offices in Naples and Winter Park, provide Interior Detailing, Interior Design and Furnishings for luxury builders, private clients and select commercial interiors. They are well known for their sophisticated, livable, and inspiring interiors. Their much-loved designs help homes sell quickly and inspire individual homeowners to commission Beasley & Henley to create custom designs for their own residences. The firm's Naples marketing office phone is 239-774-1005, with Central Florida reachable at 407-629-7753. As always, please reach is by email at Stephanie@BeasleyandHenley.com. Lic#1038