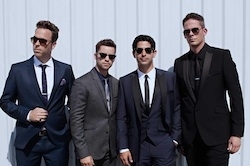 New York, NY, February 05, 2013 --(
PR.com
)-- the COMPANY MEN are thrilled to announce that they will be sharing the stage with Colbie Caillat and Chris Daughtry at the 10th Annual Red Dress Awards at Jazz at Lincoln Center's Frederick P. Rose Hall on February 12th, 2013 to honor those who have made significant contributions in the fight against heart disease. Meredith Vieira will host the event.
Based out of Los Angeles, the COMPANY MEN have burst onto the music scene over the past 12 months branding themselves as "America's First Mashup Group." Using classic music of the last six decades, they "mash" those hits with Top 40 from today, creating a one-of-a-kind sound. Sporting Mad Men style looks and custom tailored suits, this "Modern Day Rat Pack" hearkens back to an earlier era while pushing the boundaries of today's sound. They have shared the stage with Natalie Cole, Chaka Khan, Jesse Campbell ("The Voice") and LaToya London ("American Idol") and have recently concluded a successful residency at the iconic Key Club in Hollywood on the Sunset Strip.
For more information about the COMPANY MEN, please go to www.TheCompanyMen.com
On the heels of their appearance at the Red Dress Awards, they will perform with their live band at (Le) Poisson Rouge, one of the premier music clubs in New York, at 7pm on February 13th, 2013. (Le) Poisson Rouge prides itself in offering some of the best acoustics, best atmosphere and best design in the club scene in Manhattan. The show at LPR will feature special guest singer/songwriter Jenn Grinels, world-renowned guitarist Ronny Drayton, and bassist Booker King.
Date: Wednesday, February 13th 2013
Time: Doors at 6pm. Show starts at 7pm.
Place: (Le) Poisson Rouge 158 Bleecker Street, NY, NY
Seating: Two Item Minimum
Tickets: $20
https://www.TheCompanyMen.com/LPRtix
- Press Inquiries for the Red Dress Awards should be directed to: http://www.hearst.com/press-room/
- For press inquiries about the COMPANY MEN or to arrange tickets to see the COMPANY MEN at (Le) Poisson Rouge, please contact Makenzie Schwartz at makenzie@thecompanymen.com
- For more information about the Red Dress Awards, go to: http://www.womansday.com/red-dress-awards-2013