Virtual Walk-a-Thon for Non Profits Upgrades Website and Program
KiND Walk®, an online virtual walk-a-thon for non profits, charities and groups, upgrades website for easier access providing a more enjoyable experience for users.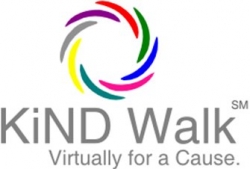 Pittsburgh, PA, February 06, 2013 --(
PR.com
)-- KiND Walk® is a virtual online walk-a-thon for nonprofits, charities, and groups to raise money for any cause, any time, using a pedometer tracking program and an online fundraising website. Recently launching a new website upgrade, participants can now enjoy a more user friendly platform to raise funds online for their cause of choice.
New features to the website for participants include; direct access to membership section via KiND Walk® website, pedometer step tracking program, easy access to group's "Pledge Hub", which is a customized website developed exclusively for the nonprofit or charity to raise funds online, communication between participants, as well as a new health and wellness yearly membership program.
This virtual concept was created originally to help jump start corporate wellness programs, and provide a "wellness program with a purpose." While this model is still an important feature to the KiND Walk® program, the marketing focus has shifted toward fundraising for nonprofits, charities and organizations and can be used by any group who is in need of a new way to raise money to fund their mission.
KiND Walk® has also incorporated a "Sponsors Program" for those companies and individuals who wish to help nonprofits and charities fund the cost of a virtual walk. Sponsors will receive online and offline advertising as well as reduced participant and membership fees for their associated members. Corporations and employers who are Sponsors of a KiND Walk® can enjoy the imbedded health and wellness discount program for their employees to help supplement the rising cost of health care and deductibles.
The attraction to the KiND Walk® virtual walk-a-thon concept is the affordable cost, ease, and online interaction between the group and participants. For some nonprofit organizations and groups, sponsoring a "live" walk can be quite costly, time consuming and resulting in a small net profit. Groups can now easily bring together individuals from all over the country to help raise funds for their cause, rain or shine, online and any time throughout the year.
For more information on how to start, organize, sponsor or join an online virtual walk-a-thon with KiND Walk®, please visit
www.KiNDWalk.com
or email info@kindwalk.com
Contact
KiND Walk
Kathryn A. Glover
1-800-818-1570
www.kindwalk.com

Contact