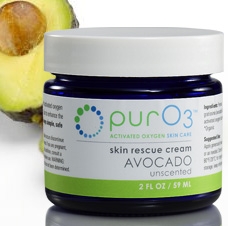 Fayetteville, AR, February 15, 2013 --(
PR.com
)-- PurO3 Activated Oxygen Skin Care is the leader in the ozonated oil industry, using only organic oils, pure ozone and high purity oxygen. The ever-expanding product line includes favorites like Ozonated Olive Oil, Ozonated Jojoba Oil, Ozonated Hemp Oil and Ozonated Sunflower Oil and all oils are made in the United States with no chemicals or preservatives. Many of their customers have reported remarkable changes to their skin, including firmness, suppleness and a more youthful appearance. PurO3 oils are truly simple, safe and pure.
The latest addition is PurO3 Ozonated Avocado, which combines organic, moisturizing avocado oil with high grade activated oxygen (ozone) to create a highly absorbable, oxygen-rich cream. PurO3 Avocado Oil is most often used to enhance the appearance, beauty and suppleness of skin.
With the launch of the new oil comes a new website at
www.puro3.com
with enhanced features including Reward Points, integrated affiliate accounts and options for distributors to buy in bulk or drop ship to individual customers.
"We believe that by expanding our product line, we can provide options for practically anyone who is interested in skin care and activated oxygen," said PurO3 Operations Manager Tobias Segal. "Our mission is to offer natural options for skin and a great customer experience. PurO3 Avocado Oil and our new website will help us do that."
PurO3 Activated Oxygen Skin Care will take part in the Natural Products Expo West in March, 2013. Distributors and affiliates are welcome to visit their website or contact them for information on how to get started. They offer excellent margins and commissions to make selling PurO3 Oils easy.