Terrace Capital, Inc. Announces - $7.8MM Non-Recourse Multifamily Loan- Jeffrey Luxury Apartments – Columbus, OH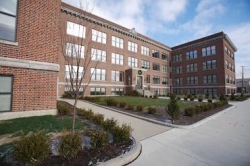 New York, NY, February 19, 2013 --(
PR.com
)-- The proceeds of this $7.8MM, 75% loan-to-value mortgage was used by the borrower, JDS Development & Management, for the repayment of existing debt and equity for the acquisition of several apartment units that were previously sold when the project was originally developed as condominium. The non recourse, mortgage had a 10 year fixed term and a 30 year amortization schedule. J. Daniel Schmidt, a principal at JDS Development, looks forward to continuing his distinguished track record of developing Class A multifamily properties in Ohio and other locations in the Eastern United States. Mr. Schmidt has clearly demonstrated his ability to turn functionally obsolete industrial developments in historically manufacturing based locations, into thriving, vibrant multifamily communities.
Jeffery Apartments, a Class A, 98 unit residential complex, is located at the northeast corner of East 1st Street and North 4th Street, in the Italian Village neighborhood of Columbus, OH. The current configuration of the building improvements results from the redevelopment of a mill-type industrial building, which was originally constructed in the early 1900's and subsequently renovated in 2007 for multi-family occupancy.
According to Mr. Trow, a Director and senior underwriter at Terrace Capital, "Lending in the state of Ohio has been challenging over the last several years, with the decline of the auto industry in the region, which has gone on for the last 30 years. Despite the economic issues, Terrace Capital is willing to take the time to find credit worthy borrowers in the state and structure deals in a competitive fashion. Terrace is currently evaluating approximately another $260MM in high leverage, multifamily financing opportunities in Michigan, Florida, Ohio, Indiana & Georgia. A number of loans currently in the pipeline at Terrace Capital, located in Michigan & Florida, have proposed senior debt of 75% and mezzanine financing to 85% of market value. Fannie Mae and Freddie Mac have generally limited these pre-review states to a LTV of 65% and we are often able to achieve LTVs of 75-85%," including conventional construction loans.
Terrace Capital focuses on non-recourse senior & subordinate debt and preferred equity with investments starting at $5MM on income producing retail, office, industrial, multifamily, self-storage and hospitality properties located throughout the continental United States.
The Firm is a leader in providing permanent mortgages and equity for wide range of real estate transactions.
For more information about Terrace Capital and the services it provides, go to www.terracecapital.com.
Contact
Terrace Capital
John Dragone
212-671-1031
www.terracecapital.com

Contact