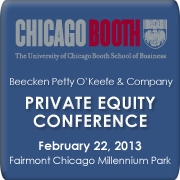 Chicago, IL, February 19, 2013 --(
PR.com
)-- Chicago Booth alumni Howard Marks, '69, co-founder and Chairman of Oaktree Capital Management, and James Quella, '81, Senior Managing Director at The Blackstone Group, will address the Chicago-area private equity community on Friday February 22 at the 12th Annual Beecken Petty O'Keefe and Company Private Equity Conference in downtown Chicago.
Joining them is Bruce Rauner, former chairman of GTCR, and John Canning, co-founder and chairman of Madison Dearborn Partners. This year's theme, "The New Vanguard: Success and Differentiation in a Challenging Marketplace," will cover trends and strategies in investing, deal origination strategies, middle market buyouts, and more.
Presented by the Chicago Booth School of Business, the private equity conference brings together industry professionals, entrepreneurs, and academic thought leaders to network and share insights from both the private equity marketplace and academia. Last year's conference was the largest yet, drawing professionals from more than 100 firms.
"This is a bountiful year for The Chicago Booth Private Equity Conference. We are thrilled to have two prominent Chicago Booth alumni, Howard Marks and James Quella, delivering keynote addresses," said Scott F. Meadow, Clinical Professor of Entrepreneurship at Chicago Booth. "Additionally, we are very excited to hear from Bruce Rauner and John Canning, two of the Founders of the Chicago private equity community." Rauner, who has been mentioned as a potential Republican gubernatorial candidate, will discuss both the PE industry and the importance of community and civic leadership.
A limited number of tickets remain available for the event, which will be held at the Fairmont Millennium Park in downtown Chicago on February 22nd. More information is available at http://student.chicagobooth.edu/group/pe/conference/.
About the Beecken Petty O'Keefe and Company Private Equity Conference
The Private Equity Conference (PEC) is an annual event that brings together financiers, students, and entrepreneurs to network and share insights into the dynamics of investing in a constantly changing economy. It aims to provide high value to private equity practitioners by combining knowledge from both the industry and academia that would be hard to find in any other setting. Through a series of engaging keynote addresses and panel sessions, leading industry individuals offer expertise and thought leadership on issues important to both the financier and entrepreneur. http://student.chicagobooth.edu/group/pe/conference/
About the Chicago Booth Private Equity Group
The student-led Private Equity Group brings together Chicago Booth MBA students who are interested in the private equity industry. The group hosts a variety of events and programs to complement the innovative courses, research, and guidance provided by Chicago Booth faculty in entrepreneurship, finance, and strategy, including career development and networking opportunities, conferences, guest speakers, industry-focused trips, and more. http://student.chicagobooth.edu/group/pe/.