San Diego Locals Are Crowdfunding Their Way to Free Preschool
A new San Diego-based not-for-profit organization, Teacher Lee Play-To-Learn™, is crowdfunding the publishing of a book, DVD and online resource center. Sales of the book will fund the free preschool program.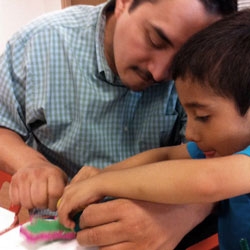 San Diego, CA, March 05, 2013 --(
PR.com
)-- A new San Diego-based not-for-profit organization, Teacher Lee Play-To-Learn™, has launched a crowd funding campaign that promises to narrow the school readiness gap and give every child a fair start by educating parents and caregivers.
The organization, founded by South African immigrant Leora Lazarus, better known as Teacher Lee, offers a free preschool education to the 49% of eligible children in San Diego county not currently enrolled in a preschool program.
The campaign, hosted by indiegogo.com, aims to raise a minimum of $30,000 to fund the publishing of their new book "The Teacher Lee Supercharged School Readiness Program" and the accompanying DVD and online resource center. These resources will be available to anyone interested in turning the everyday experiences of their children into fun learning opportunities. The sale of the book will ultimately help fund the free preschool program.
"This book is a complete guide to bringing an outstanding preschool education into the home," says Teacher Lee. "I have drawn on my 30 years of classroom experience to construct a program that teaches parents the fundamentals of developmental learning. Because developmental learning relies on encouraging a child's curiosity and creativity there are endless ways parents can incorporate it into the everyday lives of their preschool age children. Our goal is to use every means available to help parents and caregivers prepare their children for kindergarten, because every child deserves a fair start.
"Now that the federal government has announced plans to fund wider access to preschool education, the need to champion developmental teaching is greater than ever. By tying funding to testing we expect to see less child-directed adult-guided learning and much more emphasis on academics. Even families that can afford a preschool benefit from the Teacher Lee program. The one-size-fits-all testing environment can stifle creativity, individuality and independent thinking and our free program provides balance to that," Teacher Lee added.
There's a short- and long-term impact to what Teacher Lee offers. Kindergarten readiness is the immediate goal and that positively impacts achievement throughout the child's school career and into adulthood. According to the Committee for Economic Development, "high-quality preschool programs offer societal benefits that far outweigh program costs by improving later education, employment, earnings, and crime outcomes for students who attend preschool."
The Alliance for Quality Education provided statistics that show children who have attended preschool have a 29% better chance of getting into college. A RAND corporation study in 2008 on "The Nature and Quality of Early Care and Education for Preschool Age Children in California" estimated that high-quality preschool for all four-year-olds could result in 730 fewer dropouts, 1000 fewer children held back a grade in school, and 4600 fewer child years of special education in San Diego county alone.
A Chicago study indicated that children without a preschool education are 70% more likely to be arrested for a violent crime before the age of 18, while here in San Diego county, the RAND study estimated that preschool could result in 2150 fewer juvenile petitions.
The Alliance for Quality Education summarized these benefits by stating "every $1 invested in pre-k saves taxpayers up to $7."
"I believe that the major impediment to universal preschool is lack of funding and parent's inability to afford to send their children," said Teacher Lee. "This new book will empower parents to provide all the benefits of preschool education to their children at minimal cost and in a way that their children will love."
Teacher Lee adds, "children play to learn, shouldn't we all learn to play?"
To view the Teacher Lee indiegogo crowdfunding campaign visit
http://www.indiegogo.com/teacherlee
Contact
Teacher Lee Play-To-Learn, Inc.
Leon Lazarus
949-395-4574
teacherlee.com
http://www.indiegogo.com/teacherlee.com
High res photos and information also available on facebook at https://www.facebook.com/freepreschool

Contact
Multimedia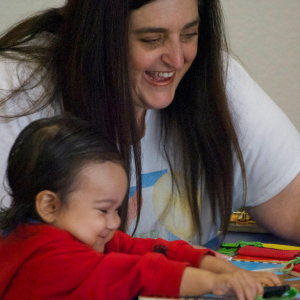 Teacher Lee enjoys a moment with one of the children who attend on of the Teacher Lee Play-To-Learn™ classes