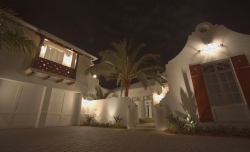 Sarasota, FL, March 06, 2013 --(
PR.com
)-- SRQ magazine has selected Perrone Construction's Dutch West Indies model home "The Bonaire" as its 2013 home of the year. "We are very proud to have been selected for this award," says Perrone Constructions Vice President, Ryan Perrone. "Our family, staff subcontractors and the professionals involved in our projects take such great pride in the beautiful homes we build it feels wonderful to have our work validated this way by the competitions' judges."
At 3,966 square feet the Bonaire would fall under Perrone's "Jewel Box" distinction, that is homes under 4,000 square feet that incorporate all of the fine finishes and amenities of the builders larger homes. It features 4 en suite bedrooms a den a great room an outdoor living room and two courtyards one of which features a pool with a walkover. "I take a lot of pride in this distinction, we take such great care in the process and in selecting the members of our team its very nice to be able to share this accomplishment with those people who made this home possible," says Richard Perrone. "As a custom homebuilder in Sarasota since 1980 our business has always been custom building projects for a specific client; this is our second model home and its great to be able to share with people who are just beginning the process of searching for land or a builder the extremely high quality and care we take in the homes we build."
About the Bonaire
The Bonaire at Spice Bay is a fresh take on an architectural style with deep historical roots. The Dutch West Indies style of the home draws its character from the old world Dutch style which was adapted to the climate available materials and other conditions found by Dutch settlers in the Caribbean on islands such as Bonaire, Aruba and Curacao. The old world style set in the tropical setting of the Caribbean creates a unique sense of casual elegance and it was this sense of casual elegance that was a main inspiration in the design of the Bonaire.
The Bonaire features true to style design elements of the Dutch West Indies and a uniquely contemporary interior. The home has a floor plan that allows the home to be viewed from each room within the house, taking an approach that views the home as art in and of itself. As you approach the home there is a scrolling wall which forms a courtyard at the entrance. The courtyard features a specimen palm which creates an umbrella over the entire courtyard which is beautifully manicured with zoysia grass and an ocre shaped fountain. The great room which fronts the courtyard is can be completely opened to it for entertaining.
The casual elegance of the home is achieved through the use of materials and the design of spaces in such a way that the desired feel is achieved through understated details. The crown molding used throughout the home is a very large cove molding, simple and elegant. The doors and windows all have transoms above, bringing light into the home and creating a spacious feel. Dark stained cedar soffits elegantly contrast the stark white walls.
The Bonaire was designed to be the ideal Florida home elegant yet comfortable and creating outdoor spaces that feel as usable as the indoor ones. It is a home that is designed to be aesthetically pleasing no matter the vantage point and comfortable for everyday living as well as entertaining. For more images of the Bonaire as well as information on Perrone Construction, please visit www.PerroneConstruction.com