Taylor Morrison Denver Extends 50 Percent Off Popular Builder Options on New Denver Homes
Denver Homebuilder Aims to be Denver's Technology Builder by Providing State-of-the-Art Convenience - While Also Offering 50 Percent Off Popular Builder Options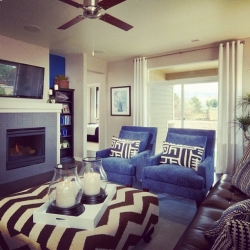 Denver, CO, March 08, 2013 --(
PR.com
)-- Denver home buyers have the chance to save thousands with Taylor Morrison's "Make This Your Moment™" event, which has been extended through March 31 and offers 50 percent off the homebuilder's most popular floor plan options.
Options such as a three-car garage, an enhanced elevation or gourmet kitchen can be included this month for 50 percent off their regular price. To be eligible, Denver home buyers must purchase their new home before March 31 and the offer is only good on new build construction.
"It's a chance to select that dream kitchen, add a covered patio or choose to include a full basement and only pay half price for it," said Kip Gilleland, president of Taylor Morrison's Denver division. "Our home buyers have been excited to add those extra special touches to their new homes and to do so while saving money."
The 50 percent off builder options promotion follows the introduction of the company's Interactive Home™ system. The Interactive Home™ system, available for a demonstration at Silverleaf in Broomfield, makes it easy for Denver homebuyers to control multiple devices in their home - TVs, thermostats, door locks and DVRs - with a user interface that's simple to use, yet flexible enough to control the most complicated electronic gadgets.
The available options and true customization of the Control4 system allow homebuyers to create connected living experiences that match and reflect their lifestyles.
Even energy efficiency is easy with the Interactive Home™. The Control4 system allows thermostats to be controlled remotely, allowing a homeowner to fine tune their home's climate from the office or a smart phone.
In addition, controls can be set to illuminate walkways at night, send emails when the garage door is left open - even turn everything off and lock the house with one touch of a button by the bedside.
"There are plenty of reasons to buy a new Taylor Morrison home," Gilleland said. "Some of those reasons just cost 50 percent less this spring."
For more information, please contact Becky Hunt by phone at (303) 656-7692 or by email at bhunt@taylormorrison.com. For more information on Taylor Morrison homes and communities, please visit www.taylormorrison.com.
About Taylor Morrison
Taylor Morrison is the largest privately-owned homebuilder based in the United States. Headquartered in Scottsdale, Arizona, the Company operates in the US under the Taylor Morrison and Darling Homes brands and in Canada under the Monarch brand. Taylor Morrison is a builder and developer of single-family detached and attached homes serving a wide array of customers from first-time buyers and move-up families to luxury and active adult customers. Taylor Morrison divisions operate in Arizona, California, Colorado, Florida and Texas. Darling Homes serves move-up families and luxury home buyers in Texas. Monarch, Canada's oldest homebuilder, builds homes for first-time buyers and move-up families in Toronto and Ottawa as well as highrise condominiums in Toronto.
Contact
Taylor Morrison
Al Stevens
480-235-1770
www.taylormorrison.com

Contact