Integral Ballet in Merrick Reveals Expanded Studio Space at March 9th Ribbon Cutting
Integral Ballet, a non-profit ballet school and pre-professional training company in Merrick recently launched an expanded second studio for their corps de ballet rehearsals, adult classes, special needs classes, and to enhance the schedule of professional-track and recreational classes for students.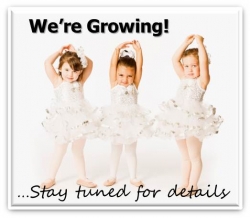 Merrick, NY, March 14, 2013 --(
PR.com
)--
Integral Ballet
held a ribbon-cutting ceremony and launch party in Merrick on March 9th to celebrate the expansion of its second studio space. The school, which offers professional-track and recreational ballet and dance classes for children through adults, recently expanded into additional studio space to accommodate its growing corps de ballet and student company, as well as to expand its class offering for adults, recreational dancers and their newly forming special needs program.
"It was such a pleasure to host the launch party," said Lauren Loschiavo, Director of Curriculum at Integral Ballet. "The support from the community has been amazing and our students are just so thrilled to be a part of it."
Students of Integral Ballet are regularly accepted into the most prestigious summer programs and companies in the country, as well as for coveted roles, jobs, and awards. The students of the Integral Ballet youth company perform classical and contemporary ballet repertoire regularly and host lectures and demonstrations on the art of classical ballet in the community and at local senior homes. The organization also supports several charitable productions per year raising funds for the American Lung Association and beginning in 2013, Dreas Dream.
"All of our FAITH Project performances, which raise funds for our partner charities, include a corps de ballet and then each of the senior company dancers have a designated variation or solo to perform as well," said Erin Drennan, Executive Director and FAITH Project choreographer at Integral Ballet. "It has been quite a challenge rehearsing our dancers in grand waltzes and codas in our 'petit' little room. Finally, we'll be able to really test out our grande allegro and really get moving. Considering that the stage we've been performing on at the Brookside School is really large, it's great that the dancers will have more space to prepare for their performances."
The school is one of two non-profit ballet schools on Long Island, the second being the directors' alma mater, the Frank Ohman School of Ballet in Commack. Both schools adhere to a rigorous curriculum based on Frank Ohman's teaching methods and syllabus, and the Balanchine-technique in which Mr. Ohman was trained.
Follow Integral Ballet on Facebook at www.facebook.com/integralballet, or on Twitter at www.twitter.com/integralballet. Visit www.integralballet.com for registration and audition information.
Integral Ballet is located at 1842 Merrick Road in Merrick and accepts ongoing enrollment for ballet students ages two through adult and offers regular performance opportunities for professional-track and recreational dancers. Student scholarships and company placement are available by audition only.
www.integralballet.com
Contact
Integral Ballet
Erin Drennan
516-442-1590
www.integralballet.com

Contact