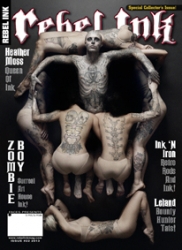 Paramus, NJ, March 22, 2013 --(
PR.com
)-- Ink world's living dead man and marked beauties recreate historic art photo for leading tattoo mag.
For the cover of the latest issue of Rebel Ink Magazine, tattoo community anti-hero, Rick "Zombie Boy" Genest appears with a half-dozen heavily tattooed girls. The pose offers RI's take on the1951 Salvador Dali/Philippe Halsman photographic collaboration – "In Voluptus Mors" (Voluptuous Death). The cover image for Rebel Ink #22 offers Genest on his back, surrounded by the six lingerie-clad pin-ups. The group is strategically posed in the shape of a human skull, playing into the hand of the Zombie Boy as both an artist and a living tattooed creation.
The Rebel Ink homage to the world-renown photograph born from Dali's imagination is the most ambitious cover shoot undertaking in the ink publication's history. Editor-in-Chief, Paul Gambino had this to say about the experience. "When given the opportunity to shoot Rico, we were both thrilled and apprehensive. We had waited a long time for Rico's schedule to allow us time to land him for a cover shoot. However, we wanted it to be something special. Here was a great model who, unfortunately, had virtually been shot to death (no pun intended) and still in my opinion, not presented in his most dramatic light. By the end of the day, I had decided to recreate the 'Dali Skull.' It appeared to be the perfect way to represent Zombie Boy. So, with the cooperation of photographer Steve Prue in garnering the perfect array of models and the technical expertise of legendary shooter Joey L. executing the photography, we created a truly wonderful cover."
As well as appearing on the cover, Zombie Boy and his delectable sextet are featured inside the magazine in a pictorial that is equally captivating and enticing. Allow Rick to take you to the dark places in his inked-up head for an interview that is an absolute must-read.
Rebel Ink Magazine is a nationally circulated publication with distribution in many major chains including Walmart and 7-11.
You can contact Paul Gambino at: editor@enoblemedia.com
Follow Rebel Ink online at http://rebelinkmag.com, @rebelinkmag, facebook.com/rebelinkmag