Tasha Apparel Celebrates 12 Years of Growth with New Website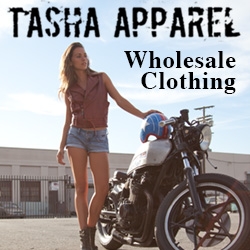 Los Angeles, CA, March 20, 2013 --(
PR.com
)-- After 12 years of success as a
wholesale clothing
retailer, Tasha Apparel is celebrating its growth and welcoming new customers with the launch of a new website. To celebrate this milestone, the company offered both new and existing customers a 15 percent discount on an entire order.
Although the company's last website was a hit with customers, the new website includes several new features to help customers with their purchases, including the option to chat live with a Tasha Apparel representative. Like its former website, the new site provides several convenient payment options for customers such as credit card and PayPal transactions.
On the new website, customers can connect to Tasha Apparel through social media with a click of a button and sign up for regular e-mail updates. The overall look of the new site is fresh and appealing to shoppers. This customer-friendly website reflects the company's commitment to its loyal customers.
"Tasha Apparel is always on time with deliveries, and they carry a wide variety of inventory at really competitive prices," said Danielle Foster, a satisfied Tasha Apparel customer.
The new site also makes it easy for its more than 20,000 customers to browse its wide selection of wholesale clothing and accessories. The new site is organized into several categories that make it easy for retailers to find what they're looking for. Categories include skirts, dresses, red carpet, jackets, plus size, underwear, and even a $1.00 bin. Large website photos help business customers determine if the item is appropriate for their customer base before they make a wholesale purchase.
With the new website, it's now easier than ever for people to jump into the retail fashion industry. The website presents business owners with a huge selection of
wholesale apparel
that won't cut deeply into the business's profits. The savings can be passed on to retail customers as well.
"For any new business that would like to continue to grow its inventory or start a new business in the fashion industry, we are the top choice," said Art Valdivia, marketing director for Tasha Apparel. "We offer a wide selection of wholesale dresses, wholesale jeans, and more for women at 50 to 80 percent below the competition."
Tasha Apparel's new website design is likely to please customers by making it easy for them to find and purchase quality wholesale apparel and accessories at discounted prices. In the future, the company hopes to expand even further.
About Tasha Apparel
Specializing in wholesale apparel to accommodate your need for everyday style, Tasha Apparel has been in business since 2001. Our styles range from cute and sexy to trendy and funky—all to satisfy your style. Along with clothing, you'll find an extensive variety of fine jewelry, handbags, and footwear.
Our mission is to provide our customers with the latest fashion at an affordable price. We work with several manufacturers to provide you with the latest styles at a discount of up to 80 percent. With this kind of a discount, we guarantee satisfaction to you and your customers.
Contact:
Art Valdivia
Marketing Director
Tasha Apparel
(877) 827-4248
http://tashaapparel.com
Contact
TashaApparel
Art Valdivia
213-612-4478
tashaapparel.com

Contact