The Stanley Team Moves to Solid Source
The Stanley Team of Atlanta has become the newest member of the Solid Source Realty family.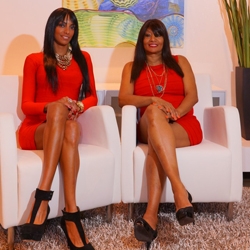 Atlanta, GA, April 15, 2013 --(
PR.com
)-- The Stanley Team of Atlanta has decided to move to Solid Source Realty. The Solid Source companies are award winning Realty firms that have had tremendous success on the Georgia market, with accolades including Top 10 Real Estate Organizations in 2011 (Atlanta Business Chronicle), #1 Fastest-growing Woman-owned Firm 2006-2009 (Atlanta Business Chronicle), Top 100 Fastest-growing Private Company in the USA (INC. Magazine, 2008), and more.
"I'm extremely excited about the prospects of working with Solid Source," said Chrishena Stanley, principal of The Stanley Team. "We have been extremely successful over the last few months with our recently implemented on-line and social media strategies, and very much appreciate the entrepreneurial spirit of the Solid Source organization, and support for their members. I think it is a perfect fit."
The Stanley Team recently launched a social media and on-line marketing strategy via Facebook, LinkedIn, Google +, Pinterest, Twitter, and a new YouTube channel. With the success of the recent initiatives, The Stanley Team felt it was critical to align with an organization that believed in fostering and supporting the self-motivated and industrious determination.
"The Solid Source approach is that of servant leadership, where we respect independent-minded agents and brokers. As a result, we are very happy to have The Stanley Team become part of the Solid Source team, and look forward to our fruitful relationship," said Brian Cowling of Solid Source realty.
About The Stanley Team
Since 2007, The Stanley Team of Atlanta
http://stanleyteamatlanta.com
, has serviced the real estate market in Atlanta, GA. Principles include Chrishena Stanley and Bernice Lattimere Stanley. They provide boutique service for both buyers and sellers.
About Solid Source
Founded in 2003, Solid Source Realty has grown into one of the largest independent real estate companies in the state, with over 2,500 sales associates. They are a locally owned and operated full service real estate brokerage in the Atlanta, Georgia metro area.
Contact
The Stanley Team of Above Atlanta
Chrishena Stanley
404-536-7400
http://stanleyteamatlanta.com

Contact