Mortgage Compliance Firm Expands as New Regulations Take Effect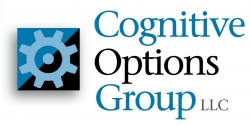 Durham, NC, March 28, 2013 --(
PR.com
)-- Cognitive Options Group, a national consulting firm specializing in
mortgage compliance
and
loan due diligence
reviews, is expanding the firm due to increasing demand for their services as new
mortgage banking regulations
and rules from the
CFPB
are being implemented.
Cognitive Options Group has hired Dante Jackson as the firm's Operations Manager and Michael Richardson to be the Director of Special Projects.
Dante Jackson has 18 years of mortgage banking experience including holding management and senior underwriting positions at Wells Fargo and Bank of America. Most recently, Mr. Jackson was the Credit Risk Officer for the U.S. Department of Housing & Urban Development (HUD) where he oversaw credit risk issues in the agency's single family housing group. Mr. Jackson holds a degree in Finance from William Penn University.
Michael Richardson is a 27 year veteran of mortgage lending and has held the role of President at several industry service providers and an independent mortgage company. For the past several years, Mr. Richardson has been an industry consultant specializing in the mortgage fraud and regulatory compliance sectors.
"As the rules from the Dodd-Frank legislation are beginning to become regulations managed by the CFPB, the need for mortgage compliance support to lenders is on the rise," said Penny Showalter, Managing Director of Cognitive Options Group. "Dante and Michael bring a wealth of mortgage banking experience and knowledge to our firm and allow us to meet the unprecedented needs of our customers and the financial services sector."
The firm continues to hire experienced mortgage professionals and growth is planned for the remainder of the year at their Durham, NC headquarters and strategically throughout the country.
About Cognitive Options Group
Cognitive Options Group is based in Durham, NC and utilizes proprietary software tools to help financial institutions determine if loans have been underwritten to risk tolerances, to guideline and program requirements (prime, subprime, VA and FHA), and compliance with GSE, federal, and state regulations. Cognitive Options Group also provides companies with operational, transactional, and outsourcing services.
For more information on Cognitive Options Group, please visit www.cognops.com or call (919) 806-4218.
Media Contacts
Peter Fugaro
Media Relations
(336) 402-0330
pfugaro@prymak.com
Contact
Cognitive Options Group, LLC
Peter Fugaro
336-402-0330
www.cognops.com
Penny Showalter, CMB
919-806-4218

Contact