Carpet Protection Film for Builders
CarpetWrap carpet protection film installed on construction sites worldwide. Designed to protect carpets during the construction process, CarpetWrap carpet protection has proven to save time and money for the construction industry.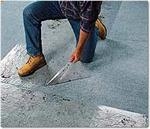 Farmington Hills, MI, March 29, 2013 --(
PR.com
)-- Surface Protection International has a solution for protecting carpets during construction. This innovative solution has proven to help builders and remodelers save money on surface damages.
CarpetWrap carpet protection film is the product and will reduce damages to carpet during the construction process. Many builders have learned the hard way by accidentally ruining someone's prize carpet during a building, remodeling, or painting project. A little surface protection preparation not only saves time and money but also creates happier customers.
Surface Protection International is no stranger to the surface protection business. They manufacture and distribute a full line of surface protection products designed to keep the construction site free of damage during the construction or moving process.
Their latest product, CarpetWrap carpet protection film comes in a variety of roll sizes that are easy to install. To install CarpetWrap, simply roll out the adhesive backed film onto the carpet. CarpetWrap carpet protection film is manufactured with a strong 3 mil film that prevents damage from dirt and spills during construction. CarpetWrap is also manufactured with the best adhesive in the industry and will not leave a residue upon removal.
Started as the solution for the damages that were being inflicted upon surfaces during the construction phase, founders Ray and Shannon Blake started Surface Protection International in 2009. Surface Protection International's new CarpetWrap carpet film is now being distributed all over the globe by contractors, flooring companies, and building supply distributors.
If you would like to learn more about CarpetWrap carpet protection film or other surface protection products go to
surfaceprotection.com
Contact
Surface Protection International
Ray Blake
866-235-4625
www.surfaceprotection.com

Contact