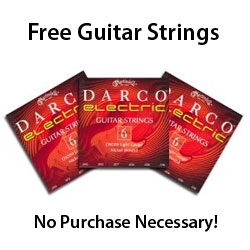 Encinitas, CA, April 02, 2013 --(
PR.com
)-- Second only to piano, the guitar is the most popular musical instrument, with an estimated 25,000,000 players and even more wannabes. Relatively inexpensive, portable and easy to learn, guitars are the "everybody" instrument.
Guitars come in 3 basic "flavors," acoustic, classical and electric. Country and folk fans usually play steel string acoustic guitars. The hollow bodies of acoustic guitars amplify the sound and are usually not connected directly to an amplifier.
Classical guitars look much like steel string acoustic guitars, however closer inspection reveals nylon strings, no strum guard and usually a wider neck. Classical guitar playing features string plucking and is usually played solo.
Electric guitars generally have solid bodies, require direct amplification and are favored by rock enthusiasts.
No matter what type a person plays, recording artist Robert Windpony rewards all guitar enthusiasts with free guitar straps, free sets of Martin strings for acoustic, electric and classical guitars plus free capos, all with no purchase required just for visiting his new website
Grandcanyonguitars.com
.
Robert says "I realize that jump starting a new website costs, so I'm putting my money where my mouth is by giving away top major brand accessories, so folks will know about us and tell their friends."
Robert also invites visitors to check out the guitar lessons at
Grandcanyonguitars.com
when taking advantage of the free strings, straps, and capos he offers with no purchase required, however he says "I wont hate it if folks get tempted by my low prices on performance quality guitars, but if they just do the freebies its just fine."