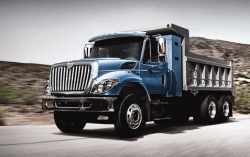 Erie, PA, April 05, 2013 --(
PR.com
)-- CNG One Source Inc. of Pennsylvania recently acquired Emission Solutions Inc of McKinney, Texas. For years Emission Solutions Inc has been the leader in natural gas vehicle technology for medium and heavy duty trucks. CNG (compressed natural gas) and LNG (liquefied natural gas) are the future transportation fuels for medium and heavy duty fleets in America.
CNG One Source plans to move the company's base of operations to Erie, Pennsylvania where the business will secure additional jobs in manufacturing and machining. CNG One Source will also develop a dealer network across the United States to provide for broader service of the natural gas engines.
The president of CNG One Source, Karen Teslovich, stated that "The purchase of ESI will allow CNG One Source to further develop the industry for medium and heavy duty natural gas vehicles. Cummins Westport and now CNG One Source will be able to offer multiple engine types for consumers to operate their vehicles on a dedicated natural gas platform."
CNG One Source anticipates working with the OEM's to provide new natural gas engines with their patented technology, and with more than eight million diesel trucks on the road today, they will also be repowering existing engines.
CNG One Source plans to bring additional benefits to market with its proprietary technology designs, which should lower the costs of CNG/LNG engines and improve their performance. This same technology may be applied to off road vehicles, including construction and farm equipment, and stationary engines.
Natural gas is a clean burning, abundant, domestic energy, and as companies look to find sustainable solutions, natural gas can deliver. Fleet operators and consumers have a choice, and dedicated CNG/LNG engines can provide the power, performance, and reliability while reducing emissions and the cost of fuel.
CNG One Source is "one source for all your CNG needs" providing feasibility studies, research and development, fleet conversions, refueling stations, training, service, and maintenance.
Media contact and dealer inquiries:
Karen Teslovich
814-725-1176
info@cngonesource.com
www.cngonesource.com