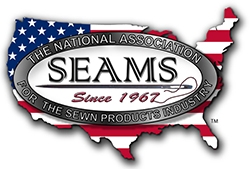 Columbia, SC, April 09, 2013 --(
PR.com
)-- SEAMS, the National Association for the U.S. Sewn Products Industry, is now accepting registrations for its Spring 2013 Networking Conference planned for April 26-27 at the historic Grove Park Inn in Asheville, North Carolina. Entitled "The Reshoring Wave," the event is expected to attract professionals from virtually every segment of the diverse fashion and industrial sewn products industry to discuss and learn about ways they can leverage the opportunities brought about as a growing number of retailers, brands, and OEMs move production back to the United States and the Western Hemisphere. Conference information and registration is available by phone at 1-803-772-5861 or through the SEAMS website at
http://www.seams.org
.
"Reshoring is top of mind for SEAMS members and the customers they serve," explains SEAMS Executive Director Sarah Friedman, "We have put together a concise agenda that will engage attendees in the discussion and deliver practical strategies they can use to position their companies to benefit from these and other new business opportunities that are available in a recovering economy. Whether they design, sell, or produce apparel, military gear, or industrial softgoods, all industry professionals are invited to take part in this timely and important event."
Scheduled presentations include:
- Reshoring: Practical Steps Manufacturers Can Take - Margaret Bishop, Adjunct Professor, Fashion Institute of Technology (FIT)
- Attracting New Business: Practical Tips for Brands, Manufacturers, and Suppliers - Rick Ludolph, President, Productive Solutions LLC
- Trans-Pacific Partnership (TPP) Update - Mike Hubbard, Vice President, National Council of Textile Organizations (NCTO)
Panel Discussions:
- Reshoring Business - Keith Crisco, Matt Anglemyer, Patrick Hickey, Frank Henderson,
- Onshoring: Things are Happening in the US - Dan St. Louis, Micaiah Bethune, Molly Hemstreet, Elroy Pierce
Attendees will also enjoy peer and professional networking opportunities, including an opportunity to introduce their business to all attendees, a special networking reception, and ample breaks. Social events will include a group dinner complete with entertainment and door prizes and a pre-conference (April 25) putting contest and golf outing. SEAMS members will be introduced to the recently installed board of directors and receive association business and upcoming tradeshow and event updates.
About SEAMS
SEAMS, the National Association for the Sewn Products Industry, is a not-for-profit organization comprised of sewn products contract and brand manufacturers and their suppliers. The organization's mission is to support the resurging US sewn products industry through educational programs that will improve the quality and productivity of the sewn products industry collectively and of its member firms individually. For more information, visit the website at http://www.seams.org.