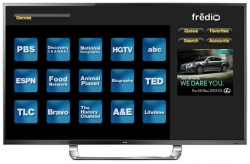 Palo Alto, CA, April 09, 2013 --(
PR.com
)-- Thousands of Hours of Premium Videos Available for Viewing on LG Smart TV's for free From Broadcast TV Websites
Fredio Inc. today announced that its free application for premium TV is now available in the LG Smart WorldTM TV app store. Its companion tablet experience is also now available at www.fredio.tv. Fredio is an easy to use application that brings viewers "Free TV for your Smart TV." Fredio announced at CES in January that it was working with LG to bring premium TV content first to LG's award winning family of smart TVs sold in the United States. Users can also use Fredio on an iPad to discover and view premium content.
Bill Loesch, Fredio CEO and Co-Founder noted: "We are excited to be working closely with LG on this launch. Fredio's goal is to provide a delightful viewing experience and to assist content owners to increase revenues through expanded advertising views. Because we leverage content that programmers are already freely putting on the web, we enhance their brands and augment their opportunity for advertising."
"Despite advances in media format and streaming protocols standardization in connected TVs, there remain some key technological challenges for consumers when moving video across the divide between PC and TV," said Colin Dixon, Founder and Chief Analyst of NScreenMedia. "Fredio can help bridge those remaining gaps in bringing web content to the TV," he added.
The Fredio app gives consumers easy access to thousands of hours of premium TV content ay no cost. The Fredio app is built around a consistent and intuitive TV user interface that aggregates free content and eliminates the need search multiple websites. Users can use their tablet or remote to discover and enjoy premium content on their Smart TVs. Over 75 TV networks have such long-form, episodic content available on the web. Fredio today already provides access to sixteen of them, representing more than 4,000 hours of programming.
Full length TV episodes as well as clips from TV networks such as HGTV, PBS, Discovery and many others can be streamed from those network's web sites in real time to LG smart TV's. More networks will be added soon.
The Fredio app can be downloaded for free from the LG Smart WorldTM TV app store (
www.us.lgappstv.com
). US owners of 2012 and 2013 LG Smart TV models can freely download Fredio now.
Complementing the Fredio Smart TV application is the companion Fredio mobile site. It allows users to find those free TV episodes and clips, then to direct the playback to the LG connected TV running the Fredio Smart TV application. That site is available at
www.fredio.tv
.
About Fredio Inc.
Fredio Inc. is a Silicon Valley based start-up founded by an experienced team of video industry executives committed to making it easy for consumers to access and enjoy free premium video content now available on broadcast network websites on a wide range of connected TV devices.
For additional information contact please visit us at
www.fredio.com
. Also follow us on Twitter and Facebook or updates to the Fredio service.
LG Smart WorldTM is a trademark of LG Electronics. FredioTM and "Free TV for your Smart TV" are trademark of Fredio, Inc.
Press contact
William Loesch
CEO
Fredio Inc.
bill@fredio.com