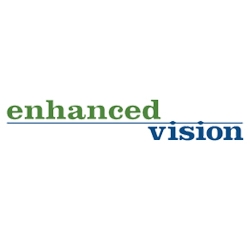 Huntington Beach, CA, April 15, 2013 --(
PR.com
)-- Enhanced Vision's recent Winter Giveaway Contest saw three visually impaired winners receive a new low vision electronic magnifier. The new DaVinci CCTV went to Sister Margaret Mary in Kentucky, followed by an Amigo portable for Yolanda R. in Michigan, and another Amigo for Ally R. in Ohio! These three shared remarkable experiences about living life to the fullest, regardless of their visual impairments, and it was a privilege to hear their stories and see how a low vision magnifier could make their lives easier. Enhanced Vision wants to hear more stories and continue giving away more prizes.
Life with low vision can be more challenging than it needs to be. Something as simple as writing a check or reading a label can be exceedingly more difficult for somebody who is visually impaired. Enhanced Vision provides assistive technology, in the form of camera-based magnifiers, to help those with low vision live life without running into boundaries created by vision loss. Since 1996, the company has been pushing the possibilities of assistive technology by matching excellent customer service with affordable quality low vision solutions.
Enhanced Vision's mission to help others see clearly doesn't stop with the design and production of state-of-the-art low vision magnification: attendance at various assistive technology expos is paramount, as it gives the company an opportunity to connect, ask questions, and receive feedback from those who depend on vision aids to make it through the day. Input from visually impaired consumers lets Enhanced Vision know what works best, and what the company should focus on in the future. Reading about different low vision experiences makes it possible for Enhanced Vision to continue designing high quality magnifiers that are effective with most visual impairments, and easy to use in a variety of environments.
Giveaway contests are another rewarding way for Enhanced Vision to identify low vision problems and solutions by asking the visually impaired to share their stories; how would a magnifier change their life? Each entry is a chance to win a brand new desktop CCTV or a portable handheld. With so many stories submitted, more prizes are being awarded than the company had originally planned. In Kentucky, Sister Margaret Mary now has an effective answer to her retinitis pigmentosa. With a new DaVinci CCTV in her classroom, she can take her lesson plans to the next level by providing high definition visuals and text-to-speech technology for her music students. In Michigan, Yolanda R. will now be able to handle paperwork more efficiently with her new portable Amigo handheld magnifier, which she can take anywhere and use anytime.
The large volume of stories that were submitted is a clear indication of the impact that low vision has on individuals, families, and entire communities, and it emphasizes the demand for efficient assistive technology. Committed to offering relief for the visually impaired, Enhanced Vision offers portable handheld magnifiers and high definition desktop CCTVs that are fully adjustable to the individual's unique visual impairment. Living with any vision loss is a challenge, and low vision consumers should have the advantage of reliability, clarity, and above all, absolute quality. Whether it's macular degeneration, glaucoma, or diabetic retinopathy, Enhanced Vision has practical options specifically designed for your needs. In addition to providing the most affordable and effective camera-based magnification available, Enhanced Vision will continue to ask for low vision stories and keep moving forward with innovative low vision solutions.
About Low Vision
Currently, more than 15 million people in the United States are diagnosed with a visual impairment, such as
Macular Degeneration
or Glaucoma, which makes daily activities like reading, writing, and working a real challenge. Considering that this number is expected to double within the next decade, leading eye care specialists agree that video magnification is an effective low vision solution. Enhanced Vision continues to design the most powerful and affordable low vision magnifiers available, with the intention of restoring confidence in the lives of anyone who yearns to see clearly.
About Enhanced Vision
Enhanced Vision is the leading developer of innovative low vision magnifiers designed specifically for people who are legally blind, have macular degeneration, and/or other visual impairments. The company offers a comprehensive line of electronic magnifying solutions, giving thousands the chance to regain their visual independence by providing the ability to read, write, watch TV, and other activities they used to cherish. Products like the portable Pebble handheld give users the ability to travel anywhere with an all-in-one adjustable magnifier. Enhanced Vision's new High Definition CCTVs feature text-to-speech technology, giving users the option of having documents, books, and magazines read aloud. All of these products are designed and built at the corporate office in Huntington Beach, California. Enhanced Vision products are available in more than 70 countries worldwide. For more information, please call (888) 811-3161 or visit
www.enhancedvision.com
.