Brydales Now Offers Great Jewelry Shopping Experience Online
Clients can now Enjoy the Lowest Prices for Amazing Jewelry.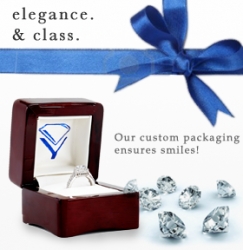 New York, NY, April 18, 2013 --(
PR.com
)-- Brydales, the online jewelry store started by two entrepreneurs from the tech and fine jewelry industries, today announced the new opening of its online store Brydales.com. The store promises the lowest prices and a wonderful shopping variety. This means customers will access quality merchandise and an efficient service conveniently.
With client satisfaction as its core business model, Brydales.com will offer fine jewelry purchases hassle-free, so that clients can access their favorite brands online wherever they are.
In line with their values, the CEO Matt Saricicek commented the following, "We believe that customers shouldn't have to pay a lot of money to get fine jewelry. At brydales.com we provide our customers the lowest prices with the best quality work and diamonds personalized according to their taste."
Brydales is relying on the markets need for personalization and uniqueness to drive sales through its online store Brydales.com. This strategy is advantageous in many ways especially given that the Jewelry Company wants to offer high quality products with a low price point.
You can expect a choice of stunning wedding bands, eternity wedding bands, pendants and fancy rings. Customers enjoy 30-day no hassle returns, the lowest price matching, free shipping and 100% satisfaction guarantee.
In recognition of the fact that many people do last minute shopping for their special occasions, with the presence of too many choices not making it easier for them, the COO John Kocak commented on the convenience for Brydales' customers, "We know that jewelry shopping can be a hassle with all the websites giving education on the types and different stone shapes. We want to eliminate that confusion and give our customers the finest jewelry available for their price."
About Brydales
Brydales is a partnership of two entrepreneurs of different expertise; John Kocak brings unbridled expertise from the fine jewelry industry while Matt Saricicek is responsible for the technology that supports the company. Brydales was founded in 2010 with a plan to continually expand their product line and improve their customer service to continually keep the clients happy.
Clients can expect professional and ethical standards from Brydales.com which also offers comprehensive easy-to-understand information on Gold jewelry, Diamonds pieces and other precious stones.
You can start shopping today at www.brydales.com
Contact
Brydales Jewelers
Matt Saricicek
(415) 300-0423
brydales.com

Contact