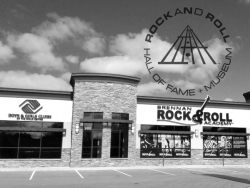 Los Angeles, CA, April 18, 2013 --(
PR.com
)--
Brennan Rock & Roll Academy
will be making another appearance with some of the world's Rock & Roll elite when it sponsors the 28th Annual Rock And Roll Hall Of Fame Induction Ceremony, taking place April 18 at the Nokia Theatre in Hollywood. The academy recently held a series of grand opening concerts and events that raised $1.2 million for its students in the Boys & Girls Club in Sioux Falls, South Dakota.
"The Rock & Roll Hall of Fame is what our kids aspire to achieve, and we are proud to be a partner in this iconic event," said
Chuck Brennan
, founder of the Brennan Rock & Roll Academy. The academy provides the first ever free music education program for children in the Boys & Girls Clubs of the Sioux Empire. The academy works to change children's lives through the power of music and teaches students all aspects of the music industry.
"They learn to play instruments, vocals and about the band environment," said Brennan. "I grew up six blocks from here and was a Boys & Girls Club member. It is a great feeling to share my love of rock and roll with future generations."
Brennan has a lifelong passion for Rock & Roll music. Before founding Dollar Loan Center in Sioux Falls, he opened and operated one of the largest Rock & Roll concert halls in the Midwest, The Blitz Ballroom. Iconic bands including Joan Jett, Steppenwolf, Quiet Riot and Blue Oyster Cult all graced the stage at the Blitz during Brennan's ownership of the venue.
This year's inductees in the Rock & Roll Hall of Fame include the bands Rush, Heart and Public Enemy. Performers Randy Newman, Donna Summer and Albert King are also being inducted, along with Lou Adler and Quincy Jones who will receive lifetime achievement awards.
Brennan recently organized a series of concerts and performances to celebrate the academy's grand opening. The events showcased some of the world's greatest rock & roll legends including Alice Cooper, Gene Simmons, Eric Singer, Tommy Thayer, Vince Neil, Sebastian Bach, Stephen Pearcy and Joey Allen. Night Ranger both performed and wrote a song for their new album at the academy. Comedians George Lopez and Louie Anderson also performed, with a guest appearance from Rick Harrison of the show Pawn Stars.
"We raised $1.2 million, which will go a long way to fund this $3.6 million program for the next 20 years," said Brennan. "We are humbled at the outpouring of support from the rock & roll community and share their desire to make the Brennan Rock & Roll Academy a fun and safe place for the children of Sioux Falls. It is an honor to support the Rock & Roll Hall of Fame induction ceremony and we sincerely congratulate each of this year's inductees."
About the Rock and Roll Hall of Fame and Museum
The Rock and Roll Hall of Fame and Museum, Inc. is the nonprofit organization that exists to educate visitors, fans and scholars from around the world about the history and continuing significance of rock and roll music. It carries out this mission through its operation of a world-class museum that collects, preserves, exhibits and interprets this art form and through its library and archives as well as its educational programs. When you become a member of the Rock and Roll Hall of Fame and Museum, the world of rock and roll becomes yours to explore. Call 216-515-8425 for information on becoming a member. For general inquiries, please call 216.781.ROCK (7625) or visit
www.rockhall.com
.
About The Brennan Rock & Roll Academy
The Brennan Rock & Roll Academy was founded in Sioux Falls South Dakota by Chuck Brennan, a philanthropist and business owner. Brennan owns Dollar Loan Center with 80 locations in Nevada, California, South Dakota and Utah. He developed the academy and made a $250,000 initial donation with a commitment to financially support the program for the next 20 years.
For more information on the Brennan Rock & Roll Academy, visit
www.brennanrockandrollacademy.com
or call 605-274-ROCK (7625).