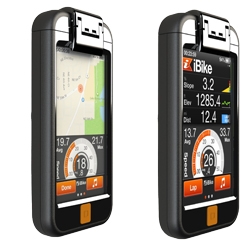 Boca Raton, FL, April 18, 2013 --(
PR.com
)-- Velocomp, a leading sports technology company and creator of the iBike line of cycling power meters, cycling fitness systems, and bike computers, announced today two new bike computer products, the iBike GPS+ and iBike GPS. Both products are designed specifically for the new iPhone 5/4S. The GPS can also be used with the iPhone 4.
iBike GPS and GPS+ are the only fully-enclosed bike computers designed to fully protect the iPhone 5.
iBike® GPS Bike Computer - Case+Mount+App
The
iBike GPS bike computer
delivers superior GPS cycling computer performance at a fraction of the cost of other GPS cycling devices. The iBike GPS provides cycling measurements and maps that are ideal for riding, touring, and commuting while providing the utmost protection for your iPhone.
iBike GPS Case Provides iPhone with Extreme Protection
The iBike GPS comes with a sleek, lightweight case that provides incredible water resistance and shock absorption. A cushioning "sled" holds your iPhone 5/4S/4 safely and securely in the case. Its creative design allows you to remove your iPhone quickly and conveniently from the case whenever you wish.
The iBike Click-Latch system provides audible assurance that your iPhone is safely sealed inside the fully-enclosed protective case.
Dual Mount Handle Bar / Stem Mount Gives Cyclists Flexibility
The iBike GPS comes standard with a Dual Mount. The Dual Mount lets you mount your iBike GPS either on your bike handlebars or your bike stem —whichever is most convenient. The Dual Mount retains the iBike's exclusive metal bracket and bolt attachment system, so riders won't have to worry about your iBike GPS case falling off of their bike.
Viewing Flexibility: Portrait OR Landscape setup
Riders can set up their iBike GPS in traditional "portrait" (vertical) mode or in "landscape" mode so that it sits horizontally on the bike.
New iBike GPS app provides easy-to-read, GPS based cycling data
The new iBike GPS app delivers more information than any other bike computer in its class, tracking GPS-based distance, speed, location, elevation, and more on easy-to-read, color-rich displays. Ride data can be uploaded directly to Strava.com from the app. The new iBike GPS app is downloadable from the iTunes app store and is included with purchase of the iBike GPS. The GPS app is localized in nine different languages. Also, you can upload your ride data directly to Strava.
The iBike GPS bike computer is also compatible with any iPhone, GPS-based cycling app.
iBike® GPS+ Bike Computer
Case + Mount + App + Precision Bluetooth Smart Sensor + Ride Analysis Software
The superior protection of the
iBike GPS+ bike computer
case plus GPS information and maps plus a precision Bluetooth Smart speed/cadence sensor plus ride analysis software for your Mac/PC, allows your iPhone 5/4S to receive speed, distance, cadence and Bluetooth Smart heart rate data* with the same accuracy of top bike computers and the superior GPS and maps at a fraction of the cost of other GPS cycling devices.
So much more than just an app or simple case, the iBike GPS+ precision bike computer includes a sleek, ultra-protective case which incorporates all of the advancements of the iBike GPS bike computer:
· a smaller, sleeker lighter case that provides extreme weather and water protection
· the iBike Click-LatchTM system
· Dual Purpose mount (can be mounted on handle bar or stem)
· Horizontal or Vertical case position
· iBike GPS app
Plus the latest in precision cycling measurement technology and the smartest cycling ride analysis software available.
Precision Measurement with Bluetooth Smart Technology
Using the latest advances in Bluetooth technology, the wireless iBike Bluetooth Smart speed/cadence sensor communicates directly with the iBike GPS app to provide 99%+ precision measurements of speed, distance, cycling time, and cadence. Bluetooth Smart technology, in comparison to previously used ANT+ technology, means that the speed/cadence sensor battery will enjoy long life.
Cycling Training and Fitness Measurement: iBike Isaac Software
Developed with the competitive and professional cyclist in mind, iBike ride analysis software (for Mac or PC) provides a rich set of analytical tools that gives the information a cyclist needs to evaluate a ride, track fitness, develop a personalized cycling training program. iBike GPS+ ride files can be downloaded into Isaac, and analyzed, emailed to a coach or uploaded to social media.
App Choices
The new iBike GPS app delivers precision, sensor-based data directly to your iBike GPS+. Additionally, the iBike GPS+ bike computer can be used with any cycling app that communicates with Bluetooth Smart speed/cadence sensors.
* Bluetooth Smart heart rate strap not included.
Availability
Made in the U.S.A., the iBike GPS+ bike computer and the iBike GPS bike computer begin shipping immediately.
The iBike GPS and GPS+ bike computers are available world-wide in bike shops and on-line at
www.iBikeSports.com
and other on-line retailers.
Connect Socially
Twitter
/
Facebook
/
Blog