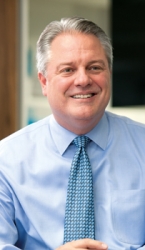 Dallas, TX, April 19, 2013 --(
PR.com
)-- After 16 years of company service, Robert Van Cleave, chairman and CEO of Balfour Beatty Construction Services US, will retire at the end of 2013. The announcement was made this week at the company's annual officers meeting.
"I've partnered with senior business leaders for more than 15 months to carefully plan a succession strategy that best supports our employees, clients, and future growth," said Van Cleave. "I could not and would not walk away until I knew the business was in great hands, and under strong leadership from the right team."
With more than 30 years in the construction industry, Van Cleave joined the company (then Centex Construction) in 1996 as president and chief executive officer of its Southwest operations. In 2003, he assumed the role of chairman and chief executive for the national group, and soon helped guide the company through its 2007 acquisition by London-based Balfour Beatty, with global revenues exceeding $18 billion. In addition to his leadership in the U.S., Robert serves on Balfour Beatty's global Executive Committee and has previously served on several boards including the Dallas Museum of Nature and Science, Dallas Children's Advocacy Center, and TACA, a Dallas arts organization.
"As a friend and colleague for more than 20 years, I have huge respect for Robert's integrity, reputation, and business acumen," said John Tarpey, the company's Chief Operating Officer. "Robert is the embodiment of our company culture, one dedicated to the belief that how we work together is as important as the work we do."
Mark Layman, President of Balfour Beatty Construction Services US, will assume leadership over the national business when Van Cleave retires at year-end. Layman will work closely with Tarpey, corporate, and regional leadership to continue to offer industry-leading innovation and value to clients in the public and private sector.
"With the company since 1989, Mark's experience, talent, and proven leadership strength is the right fit for the future of our business," said Van Cleave. "He's been an active partner of mine for the past 16 years and is the perfect leader to ensure continued forward momentum on the strategy our team has built together."
With more than 24 years with the company, Layman has held positions of increasing responsibility including VP of Finance, Executive Vice President, and Chief Financial Officer. He holds a B.B.A in Finance from Texas A & M University and is a member of the Construction Financial Management Association.