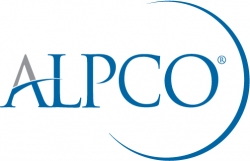 Salem, NH, April 26, 2013 --(
PR.com
)-- For over twenty years, ALPCO has been a provider of immunoassay kits and other life science solutions to researchers in the academic, pre-clinical and clinical communities. ALPCO will begin offering their STELLUX Rodent Insulin ELISA on April 25, 2013, the first ELISA launched in their new STELLUX Chemiluminescent assay product line.
Many commercial mouse and rat insulin ELISAs require several dilution steps to ensure concentrations fall within a limited standard curve range, resulting in increased sample preparation time and added labor costs. Chemiluminescent assays provide rapid and sensitive detection while exhibiting wide dynamic ranges. ALPCO has developed the STELLUX Rodent Insulin ELISA to enable researchers to confidently measure insulin in both rats and mice from 0.1 to 150 ng/mL, using just 5 mL of neat serum or plasma.
"This new Rodent Insulin Chemiluminescent ELISA is unparalleled in the industry. It allows our customers accurate results with only a 5 µL sample size," says Martin Blankfard, Vice President of Scientific Operations, "Our chemiluminescent detection systems allow for a dynamic range that suits both live rodent models as well as in vitro islet studies. This is a problem we've been asked to solve time and time again, and this system provides the answer. My goal is that all the assays in our new STELLUX Chemiluminescent product portfolio prove to set new standards in the field. This is what our customers have come to expect from us, and what we aim to deliver."
ALPCO's President, Sean Conley added the following comment, "I'm very pleased with the new product solutions coming out of our R&D investments. True to ALPCO's mission, our Research & Development team continues to investigate and deliver on new technologies to assist our customers in overcoming the challenges they face in their research endeavors."
About ALPCO
ALPCO (American Laboratory Products Company) was founded in 1991 as a provider of immunoassay kits for the North American research markets. ALPCO's mission is to offer unique product solutions that appeal to a diverse set of customer needs, while providing exceptional customer service and product support.
www.alpco.com