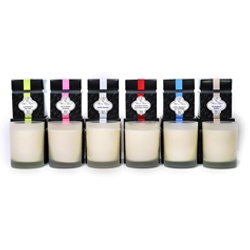 Houston, TX, April 27, 2013 --(
PR.com
)-- There's never a dull moment as they say with Theresa Roemer. Whether she is writing an award-winning book, climbing a challenging peak like Kilimanjaro, digging wells for children in Malawi, promoting her one-of-a-kind handmade truffles or hand pouring aromatic, signature candles—it's always dramatic but also completely True and Real. So this time it is the launch of Theresa's stunning new signature candle line available on her website at
TheresaRoemer.com
.
This incredible collection of True and Real signature candles are all natural and made from soy. Designed to evoke sensual experiences and memories, their scents play off aphrodisiac fragrances, wildflowers and nature. Carefully made and tested to the strongest possible scents, they not only treat the senses, they are also visually appealing. Each candle is hand-poured into a frosted, reusable glass. Smokeless and clean burning with lead-free cotton wicks, these candles are also eco-friendly and there's no mess.
Speaking about her recently launched True and Real signature candle line, Theresa says, "The sense of smell is such a strong feeling—it can elevate you, make you nostalgic, entice you into a romantic mood, energize you, and so much more. These candles are passionately inspired to create ambiance and refuge. I like to think of them as fun, witty and sensual all at once! You have a wide range to choose from depending on the mood you're in and more importantly, the mood you want to create for the company you are in. Whether it is the beautiful blend of gardenia and honeysuckle that creates 'lustful moments', or the fresh, clean aroma of musk mixed with champagne that raises a toast to your special, private celebration, there's a scented candle for your every mood."
Theresa is a successful fitness trainer and entrepreneur with many beauty, fitness and bodybuilding titles to her credit. She recently introduced her signature truffles. So why scented candles now? "A nice scent makes you happy, it helps you relax and you feel good. Just as it was with my book, the bridal accessories, the chocolate truffles and now with these candles, I always look for ways to make people feel good," Theresa adds.
About Theresa Roemer:
Beauty and fitness pioneer Theresa Roemer has previously owned and operated her own health clubs, mentored young girls in the highly acclaimed Barbizon Modeling Schools and her fitness talents have been utilized by a top fitness chain in the country. She has authored the Indie Excellence award-winner book, Nude: Unveiling Your Inner Beauty and Sensuality. She is an active spokesperson for the American Heart Association, Texas Children's Hospital and is a board member for Child Legacy International. In recent months, Theresa has been busy with speaking engagements on fitness and nutrition; sponsoring fundraising events for the American Heart Association; filming interviews, promoting her signature truffles and now her new line of designer candles.