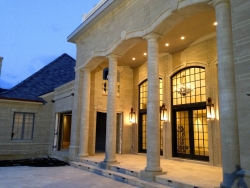 Cincinnati, OH, April 30, 2013 --(
PR.com
)-- Interior designers, and homebuilders, as well as residents and city leaders in the Greater Cincinnati and Northern Kentucky region, have become entranced by the grand luxury home nearing completion in Edgewood, Kentucky.
The spectacular new 15,950 square foot lavish mansion on Turkeyfoot Road in this suburban area will be completed in time for the Northern Kentucky Cavalcade of Homes during the first three weekends of May (presented by the Homebuilders Association of Northern Kentucky).
Located just five minutes from downtown Cincinnati, Ohio, the classically inspired home sits atop a peaceful rolling hillside and is backed by dense woods. The home's architectural design was conceptualized by Tim Burks, owner of Tim Burks Builder, Inc. in Fort Thomas, Kentucky.
Interior designer Grace Jones, owner of Dwellings, an interior design boutique in Cincinnati, Ohio, has been involved as well in the home's inspiration and the design.
The home has been nicknamed the 'Kentucky Mansion' by residents in the local community. It features a soft man-made limestone exterior, a quarried slate roof, vaulted groin ceilings in the Great Room, stucco-treated wall finishes, many walls of floor-to-ceiling windows, a marble winding staircase in the extraordinary gold-leaf domed foyer, chiseled tile floors, a generous use of sparkling, imported Swarovski crystal chandeliers, and dramatic architectural Northern European features throughout the interior and exterior of the home.
Tim Burks has created a massive lake in the front of the home, highlighted by a grand-scale, hand-laid arched stone monument wall and topped with large copper and iron gas lights, giving the home a castle-like moat effect, reminiscent of European aqueducts. An oversized two-story Gothic style leaded glass door and Juliet balconies grace the façade.
Cincinnati, Ohio Interior Designer Grace Jones tapped into her knowledge of European history and interior design, as well as her ability to and create fierce and bold interiors when choosing treatments throughout the home.
Grace Jones observed, "This project has been the dream of any designer. We've been able to partner seamlessly with Tim Burks Builder, Inc. and the homeowner every step of the way. The final result is just a masterpiece."
Tim Burks, the custom homebuilder, added, "Here is such a mutual respect for the talents of the many craftsmen and artisans on this project. There simply is nothing else like this around here. Period."
Exquisite touches in the home's design include dramatic architectural Northern European features throughout the interior and exterior of the home with an elegant man-made limestone exterior topped with a quarried slate roof in muted teal, lavender and soft taupe colors from three different Vermont mines. The interior includes a 20-foot sculpted plaster groin ceiling in the Great Room; stucco-treated wall finishes, many walls of floor-to-ceiling windows; and chiseled tile floors complemented by stunning, old-world feel wooden floors that were hand-laid with intricate patterns and in-lays. All of the home's fireplaces were shipped from Europe. As work nears completion on the home, the gentle finishing touches include a generous use of sparkling, imported Swarovski crystal chandeliers throughout.
The grand-scale two-story foyer is breathtaking and features an all-stone staircase created from imported Italian Crema Marfil marble with the beautiful marble continuing throughout the entire entry foyer. The ornate stairway railing was custom welded on-site by a 150-year-old company and features delicately designed wrought iron with gold acanthus leaves and 22 Swarovski crystal accents in the handrail. A magnificent gold-leaf-painted domed ceiling and a brilliant crystal chandelier magnificently create the crown for the foyer.
Additionally, the Kentucky Mansion's interior features opulent crown molding, cathedral arch stone doorways, a European gourmet kitchen, a Butler Pantry, a centerpiece casino room with five big-screen TVs a 30' Lanai wall opening to an outside lounge porch; an over-indulgent theater room with a fiber-optic starlit ceiling; and 4 bedrooms and 8 luscious baths. The beamed two-story library with ceiling-to-floor judges wood paneling and a meticulous wood finish treatment is just one of the spectacular features in the home.
The home's project manager Linda Cochran, of Tim Burks Builder, Inc., noted that there is "literally a sense of reverence for the project by those who have spent many months on the construction and the finishing treatments of the home."
Cochran continued, "The homeowners' gratitude and satisfaction is something we all treasure."
Elaborate silk and velvet fabrics are used abundantly for drapes throughout home. Some of the furniture has been custom-designed and made specifically for this home. Wallpapers have been imported from the United Kingdom and sculptures and decorative urns have been imported from around the globe as well.
The home's luscious infinity pool with imported tiles was created in a design to replicate an Italian villa setting, while the grand pool house has been adorned with a copper turret and arch copper dormers.
Tim Burks offered this observation, "Collectively, the vendors, sub-contractors, and craftsmen who have been a part of the construction and finish work of this amazing home feel a deep sense of respect and excitement about the finished beauty of the results. We all do."
For more information about Tim Burks Builder, Inc. visit the
Tim Burks Builder website
or Faceebook Page. The phone number for Tim Burks Builder is 859-781-3339.
For more information about Grace Jones and Dwellings - Cincinnati Interior Design, visit the
Dwellings website
or Facebook Page. The phone number for Dwellings in Cincinnati is 513-321-6900.