Memorable Mother's Day Brunch Offered at Arrowhead Grill
Indulgent Mother's Day Menu by Chef Charles Wade Schwerd Shows Moms How Much They Mean.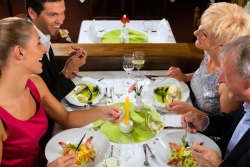 Glendale, AZ, May 01, 2013 --(
PR.com
)-- Arrowhead Grill is celebrating Arizona moms with an indulgent Mother's Day menu to help families show mothers how much they mean this year.
The Mother's Day Brunch will be served from 10 a.m. to 3 p.m., Sunday, May 12.
Mother's Day Brunch begins with the selection of a seasonal starter, including a light spring salad, sweet ambrosia salad, Caesar salad and New England style clam chowder.
The main course offers several, gourmet selections specifically prepared with mothers in mind. Entrées include Atlantic salmon, New Zealand rack of lamb, delicate roasted chicken, exotic swordfish and Eggs Benedict.
Dads and sons will also have plenty to choose from, with 7-ounce filet mignon wrapped in Applewood bacon, 8-ounce prime rib, AGs famous 10-ounce Delmonico steak, and a 16-ounce pork tenderloin.
Every entrée includes one of Chef Charles' signature side dishes, including sautéed asparagus, sautéed green beans, mashed potatoes, a baked potato, creamed corn, creamed spinach, sautéed mushrooms and onions, maple mashed sweet potatoes or AG hash browns.
Dessert will also be offered for an additional $5.99 and includes the choice of the AG's signature butter cake, vanilla crème brûlée, cinnamon cake or strawberries and chocolate fondue.
"Mother's Day is that one day each year that moms look forward to with hope and anticipation," said Chef Charles Wade Schwerd. "It's the day when they are recognized for all of the wonderful things they do for their families and the love they give. Whether they say it or not, every mother hopes to be shown on Mother's Day that they are loved and valued.
"That's why we work to ensure that everything is top-notch, from the menu to the service. We want families to be proud of what they've done for mom on Mother's Day."
The cost for this elegant Mother's Day Brunch is $42.99 per person. Reservations are required and seating is limited. Reservations can be made by calling (623)566-2224 or online at www.arrowheadgrill.com/reservations.
Known as the west Valley's best steakhouse, Arrowhead Grill is located at 8280 W. Union Hills Dr. (Loop 101 and Union Hills) in Glendale.
To get the latest news on Arrowhead Grill's daily specials, follow Arrowhead Grill on Twitter at www.twitter.com/arrowheadgrill or on Facebook at www.facebook.com/arrowheadgrill.
About Arrowhead Grill
Established in 2008 by renowned Valley chef, Charles Wade Schwerd, Arrowhead Grill epitomizes Schwerd's two decades of steakhouse experience, offering Valley residents a diverse menu of top quality steak and seafood. Featuring all natural meats and fresh, mercury-free seafood selected especially for Arrowhead Grill's gourmet menu, the Glendale-based restaurant offers something for everyone in a sophisticated setting. For more information, please visit www.arrowheadgrill.com.
Contact
Arrowhead Grill
Al Stevens
480-235-1770
www.arrowheadgrill.com

Contact