CURT Manufacturing Offers Over 100 Videos on YouTube for Dealer and Consumer Use
CURT YouTube Page Features How-to, Installation & Product Feature Videos.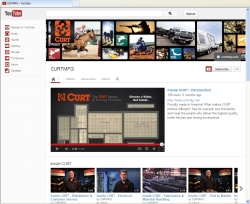 Eau Claire, WI, May 01, 2013 --(
PR.com
)-- CURT Manufacturing, a leading manufacturer and marketer of top quality towing products, continues to invest in local talent and technology to drive new customers to their dealers and installers nationwide. Since 2009, CURT has been developing, shooting, and launching videos on their YouTube page. Currently, the company has well over 100 videos organized into convenient playlists.
The page started with "Inside CURT" virtual tours of the manufacturing facility and then continued growing with how-to videos and product specific feature and benefit videos. CURT says their goal is to educate consumers about their products, walk them through installations, and be the trusted source for any towing related questions they may have. Click here for full access to CURT's YouTube page:
http://www.youtube.com/user/CURTMFG
The videos have already proven to be a great asset for CURT dealers. Videos are being played in store for customers to see, creating a great virtual salesperson for the dealer during busy periods. Installers watch installation videos for additional guidance on how to install a particular hitch. CURT YouTube videos also help drive consumer traffic to these stores through CURT's "Where to Buy" page, where the majority of consumers opt to buy from a local brick and mortar location. These videos also dramatically improve search engine results, driving even more traffic to CURT dealers. The company encourages their dealers to embed CURT product and installation videos on their own websites and is happy to assist in doing so.
"Although we are creating many types of videos, a common facet of all productions is information. We want to educate and engage our audience. New content is continuously being created," stated Martin Cuccia-Nilsen, Director and Videographer of all CURT videos. CURT now has around 75 installation and product videos and will continue to release new videos each week. The company has had nearly 150,000 YouTube video views.
About CURT Manufacturing: CURT is a leading manufacturer and marketer of top quality towing products. The company offers American-made, custom fit receiver hitches and wiring harnesses for nearly any vehicle on the road. They also market a broad range of trailer hitches, towing systems and related accessories. CURT is 'The First Name in Towing Products' for automobile and truck hitches, as well as RV, gooseneck and commercial towing systems. Products are marketed through retailers, distributors, installers, and e-tailers across the U.S. and Canada. CURT employs hundreds of associates, primarily at their manufacturing facility and corporate headquarters which is located in Eau Claire, Wisconsin. CURT operates 11 regional warehouses, each carrying over 2,500 items and has been twice named a Wisconsin 'Manufacturer of the Year'.
For additional information on CURT products or to become a dealer,
click here
or call toll free at 1-877-CURTMFG (287-8634)
Media Contact: Fayne Peck
fpeck@curtmfg.com
715-838-4146
Contact
CURT Manufacturing
Fayne Peck
715.838.4146
www.curtmfg.com

Contact