Howzer's Latest App Brings Joanne Weir's Cooking Confidence Right to Your Kitchen
The company's recently launched "Joanne Weir's Cooking Confidence: Appetizers" is featured among Food & Drink's "New and Noteworthy" apps in the Apple App Store.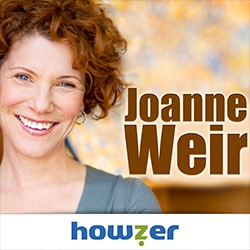 Houston, TX, May 07, 2013 --(
PR.com
)-- For those iPad users who are fond of spending their spare time in the kitchen but need somewhat of a confidence booster in making their culinary endeavors a cinch, Joanne Weir's enthusiastic love of teaching and an all-round collection of appetizers – swept up into a one-on-one step-by-step interactive video course – is the perfect cooking-inspiring and courage-infusing tool.
James Beard Award-winning cookbook author, chef, cooking teacher and television personality, Joanne harnesses the power of Howzer's highly immersive and versatile app platform to share a lifetime of experience and passion for cooking, masterfully blending fun and education along the way.
"Joanne Weir's Cooking Confidence: Appetizers" is available now on the App Store as a
free download
. The new app comes with a complete lesson for a delicious cold Spanish soup Salmorejo. Additional lessons can be purchased individually for $0.99 each or as a bundle of 24 lessons for $4.99.
This is Howzer's second app featured in the App Store's "New and Noteworthy" category within the Food & Drinks section along with the recently launched award-winning "Baking with Dorie!" app. By combining most advanced, user-friendly technology with the HD production quality, both applications are designed to deliver loads of highly comprehensible hands-on experience teaching the aspiring cooks how to be more flexible in the kitchen:
· Learn to cook like a pro following detailed instructions filled with professional tips and tricks, each recipe provided as a complete cooking lesson.
· Enjoy big screen production quality on your iPad. Every step of every recipe includes high definition videos of Joanne in action. She's right there with you in your kitchen.
· Create gourmet dishes with ease to impress your guests.
Choose your style and skill level:
· Cookbook ― Visually similar to a traditional cookbook – but with all the multimedia enhancements.
· StepView ― A guided walk through the recipe with video instruction each step of the way.
· SpinView ― A video carousel allows cooks to set their own pace and skip steps as they become more comfortable.
· ChartView ― A unique opportunity to view the entire cooking lesson, mapped out and illustrated from start to finish – helps to quickly revisit the steps of a favorite recipe.
· Social Networking ― Possibility to connect in an engaging, supportive and resource-rich community.
About Howzer
Howzer creates new-generation apps with an immersive, highly visual interactive user experience that blends entertainment and education. Combining our rich software engineering background with e-learning fundamentals, Howzer delivers flexible solutions with customizable instruments enhanced with eye-catching video and art, for a likable and efficient learning practice.
www.howzer.com
Contact
Howzer Interactive, LLC
Victoria Polyak
281.552.5000
www.howzer.com

Contact