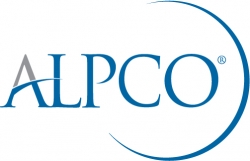 Salem, NH, May 16, 2013 --(
PR.com
)-- ALPCO Diagnostics and BÜHLMANN Laboratories AG will be exhibiting together at Digestive Disease Week in Orlando, FL May 19-21, 2013. The partnering companies will feature BÜHLMANN's Fecal Calprotectin ELISA at the meeting. The test is pending FDA clearance for In Vitro Diagnostic use in the United States.
An FDA cleared Fecal Calprotectin test will provide clinics an opportunity to introduce a simple, non-invasive and quantitative method for measuring organic bowel mucosa inflammation. BÜHLMANN's Fecal Calprotectin ELISA is the market leader in Europe, offering a cost-effective and accurate system allowing gastroenterologists to reliably diagnose patients with IBD, while differentiating the condition from IBS.
Dr. Arne Roseth, a gastroenterologist who originally identified and characterized calprotectin, will attend DDW with ALPCO and BÜHLMANN. Attendees are encouraged to visit the companies' booth (Booth # 727) to meet Dr. Roseth and discuss with him the benefits of calprotectin testing.
About ALPCO
ALPCO (American Laboratory Products Company) was founded in 1991 as a provider of immunoassay kits for the North American research markets. ALPCO's mission is to offer unique product solutions that appeal to a diverse set of customer needs, while providing exceptional customer service and product support.
www.alpco.com
About BÜHLMANN Laboratories AG
Founded in 1976 in Basel, Switzerland, BÜHLMANN is a family-owned manufacturer and distributor of diagnostics research products. The company is committed to providing quality products and excellent service as well as worldwide availability. Over the years, BÜHLMANN has established locations in Austria, France and Italy.
www.buhlmannlabs.ch