"Meteorite Man" Geoff Notkin Making an Impact Around the Globe
Star of TV's "Meteorite Men" Films with NASA, Speaks at Spacefest V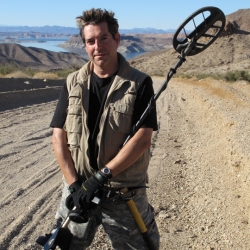 Tucson, AZ, May 16, 2013 --(
PR.com
)-- Whether he's sharing the stage with Bill Nye 'The Science Guy' in Arizona, speaking at a National Astronomy Day event in Georgia, or filming at the site of an ancient meteorite crater in Germany, Geoff Notkin continues to make a global impact as an in-demand science celebrity and public speaker.
Notkin is an adventurer, science writer, award-winning author, producer, actor, and meteorite expert. He starred for three seasons on the Science channel television series Meteorite Men, which currently airs in 30 countries around the world.
Last month, Notkin attended the 2013 International Academy of Astronautics Planetary Defense Conference in Flagstaff, Arizona. On Wednesday, April 17, he shared a playbill with Bill Nye 'The Science Guy,' for a sold-out presentation about near-Earth asteroids and planetary defense. Notkin also discussed his remarkable meteorite expeditions in some of Earth's most foreboding locales.
Throughout the Planetary Defense Conference, Notkin also served as special co-host for NASA Edge TV, which takes a unique look in and around the greatest space program on the planet. He interviewed visiting scientists for an upcoming series of vodcasts. Since debuting, NASA EDGE vodcasts have been downloaded 42 million times and counting. Check http://www.ustream.tv/nasaedge frequently for updates.
On the heels of the Flagstaff conference, Notkin appeared with his Meteorite Men co-star Steve Arnold at Georgia's Tellus Museum for National Astronomy Day. Along with an entertaining slide presentation, the duo debuted a special live commentary during a screening of the Meteorite Men Season Two episode, "Henbury Craters."
Near the end of April, Notkin jetted off to Europe, where he filmed a short segment at Germany's 14-million year-old Ries impact crater and was treated to a private tour of the meteorite collection at the Vienna Museum of Natural History. Returning to the states in early May, he continued an ambitious schedule of appearances and projects. Highlighting his schedule this month are the following events:
National Metal Detecting Day, Santa Barbara, CA: On Saturday, May 18, Geoff Notkin will be appearing as a featured guest speaker in Santa Barbara, CA, one of four cities around the globe holding National Metal Detecting Day events. The California program is being held on the beach in front of Fess Parker's Doubletree Resort, 633 East Cabrillo Boulevard, Santa Barbara. Registration begins at 8 a.m. and Notkin will be available for interviews and to meet-and-greet the public following his presentation.
Spacefest V, Tucson, AZ: On May 24-27, Notkin will be a guest speaker and panelist at this large public event featuring astronauts, astronomers and planetary scientists, including 'moonwalkers' Alan Bean, Gene Cernan, Edgar Mitchell, and Dave Scott. On Saturday, May 25, Notkin will be participating in SpaceUp Paris, sponsored by the European Space Agency, through Google+ hangout. On Sunday, May 26, at 1:30 p.m. PT, he will be the featured presenter in the Big Room, discussing meteorites and what they tell us about our solar system. Later that evening, he will join Deep Space Industries CEO Rick Tumlinson and other notables for an Asteroids Panel beginning at 6:15 p.m.
While maintaining a hectic travel and appearance schedule, Notkin always finds time to interact with fans and friends via social media. His popular Twitter account was nominated for a 2013 Shorty Award, honoring the best in social media. He describes his Twitter account as "an entertaining daily mix of dry British wit and science news." Follow Geoff on Twitter at www.twitter.com/geoffnotkin.
Media wishing to interview Geoff Notkin are asked to contact Becca Gladden, Public Relations Director, at limelightwriting@aol.com.
Contact
Becca Gladden
623-210-6554

Contact