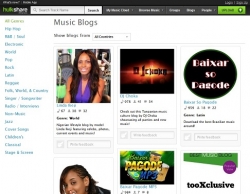 Hong Kong, Hong Kong S.A.R., May 24, 2013 --(
PR.com
)-- "Bloggers provide a tremendous value to the indie music community by reviewing content that otherwise might never have surfaced. We are leveraging this strength by indexing any participating blog that uses our Embed players. The reviews are then linked to the tracks in our music repository, providing the blogger with accreditation and our users with another angle of music discovery," said Arjan Wijnveen, Hulkshare CTO.
Since its development and Beta release a little over 320 blogs have contributed well over 300.000 tracks, and those numbers are set to grow. "In recent weeks we've seen increased adaptation by the blogs, resulting already in roughly 5000-8000 track recommendations on a daily basis," said Arjan. "Those reviews are now used as a ranking factor when either exploring or searching in the Hulkshare music repository."
At the core of its service is the Hulkshare Embed Player, a user friendly widget
that comes in many sizes, shapes and colors and plays either tracks or playlists. Blogs are able to easily place this widget on their pages, instantly enabling them to participate in the Blog Music Index. The Player can be redesigned to match any look and feel and is fully compatible with Mobile visitors. Besides playing music it also encourages community interaction by providing direct ways to Like or Comment on tracks.
With over 14 million unique monthly visitors Hulkshare also gives back to the Blogs. By providing them with their own profile complete with artwork and website link, they open themselves up to an increased audience and extra traffic back to their Blog. In the near future track comments received on the Embed player will be associated with the reviewing Blog, giving them even more exposure.
Online Music Platform Hulkshare is extending an invitation to all music bloggers to become part of this exciting and revolutionary project. Blogs that are interested in participating in the Blog Music Index can contact Hulkshare at support@hulkshare.com.
www.hulkshare.com/