"Paying For College Without Breaking the Bank" Interactive e-Book Available for iPad, Kindle, Nook eReaders, and Mac OS, PCs, and in Paperback
"Paying for College Without Breaking the Bank – The Ultimate Student, Parent and Educator Guide to Over 500 Verified Links to Financial Aid and Scholarship Resources," is now available from Amazon and Barnes and Noble.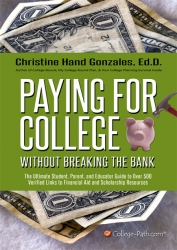 Sumter, SC, May 29, 2013 --(
PR.com
)-- In "Paying For College Without Breaking the Bank," professional college counselor Christine M. Hand-Gonzales, Ed.D, provides expert advice on planning for college costs. As the price of college tuition continues to rise, paying for college will require a strategy to capitalize on financial aid while curtailing costs. "Paying for College Without Breaking the Bank" takes the stress and confusion out of applying for financial aid while increasing your chances of earning a scholarship.
Learn how to navigate the aid process; find ways to plan and save for college costs and tuition; and equip yourself with a tool chest of tips from professionals in the financial aid field, parents who survived the process, and students who found creative ways to pay for college. Avoid common mistakes; understand terms the financial aid officer uses, such as cost of attendance (COA), Expected Family Cost (EFC), grants, loans, scholarships, and much more. Within these pages, you will find over 500 reliable Internet links to help you target scholarships as well as all the budgets and checklists you will need.
This comprehensive and insightful guide is written so it will be like having a professional financial aid and college planner beside you every step of the way.
Follow the college planning timeline.
Review the financial aid application process.
Calculate the actual costs of attending college.
Increase your chances of receiving aid and scholarships.
Compare aid offers and learn how to appeal if needed.
Avoid costly mistakes when applying for aid.
Tips for completing the required federal form, the FAFSA.
Learn where to find scholarships.
Budget checklists and more.
Looking for an extensive list of publications and internet resources that is beyond compare? This book is for you – giving you all these resources and more.
About The Author: Christine M. Hand-Gonzales, Ed.D, has spent the last 25 years as a consultant, instructor, high school college counselor, and registered therapist. Her work with high school juniors and seniors focuses on career exploration and college counseling. Dr. Gonzales is a graduate of St. Lawrence University where she received a B.A. in Art Education and Economics. She earned a Masters in Counseling Education from the University of Bridgeport, and a Doctorate in Counseling Psychology from Argosy University. Find out more about the college search and admissions advice on her website,
www.College-Path.com
.
"Paying for College Without Breaking the Bank" by Christine M. Hand-Gonzales, Ed.D. - eBook version $4.99 and in paperback for $9.99 on Amazon and at Barnes and Noble.
Free Kindle eReader App downloads - http://www.amazon.com/gp/feature.html?ie=UTF8&docId=1000493771
Contact
College Path, LLC
Dr. Christine Hand Gonzales
4045617729
www.college-path.com

Contact