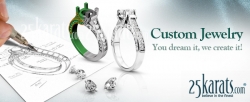 New York, NY, May 30, 2013 --(
PR.com
)-- While jewelry stores offer a variety of diamond engagement rings and wedding bands, many clients have trouble finding the piece of jewelry that speaks to them. They have trouble finding an engagement ring that perfectly captures their relationship, or a wedding band that honors their culture and heritage.
That's why online jewelry retailer 25karats.com is proud to announce their
custom design jewelry
service. This unique online feature makes it possible for customers to create one-of-a-kind jewelry, including engagement rings, wedding bands, fancy rings, pendants and many more. Clients can simply visit 25karats.com, submit their dream design and receive a free price quote before committing to making the piece.
"At 25karats.com, we believe that our clients deserve jewelry that's just as unique and special as they are," says Matt Aksu, CEO of 25karats.com. "That's why we've recruited a team of custom design specialists who can turn even the most complicated design into a living, sparkling piece of diamond jewelry."
While
25karats.com
has an incredibly diverse line of wedding bands and engagement rings, they know that their clients sometimes want something a little different. That's why they have a team of experienced jewelry design specialists who can help clients create their dream engagement rings, wedding bands, or custom fine jewelry, all with the help of the latest technology and fine craftsmanship.
Attention to detail and perfect craftsmanship is very important to 25karats.com. The custom order process is intuitive, making it easier than ever for customers to start designing their dream jewelry. The custom design process begins with a quote request, where clients can get a better idea of how much they need to spend on their diamond jewelry.
After agreeing to continue, 25karats.com's master model makers will provide clients with drawings of the jewelry, which will be followed by using CAD, the latest technology for creating and designing your jewelry. This gives customers the opportunity to make any necessary tweaks to the design to ensure they achieve absolute perfection.
The final step of the custom design process is approval and creation of the final product, where customers will finally get to hold the perfect piece they've always dreamed of. The entire process can take between 12 to 14 business days.
Clients can even use heirloom diamonds or gemstones in their custom design piece.
"We predict this will be very popular with the younger generation, as more couples are looking to break with tradition to be as unique as they can be," says Aksu.