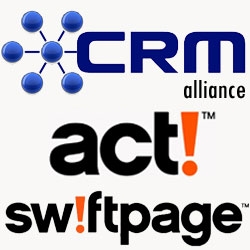 Phoenix, AZ, June 03, 2013 --(
PR.com
)-- The CRM Alliance is pleased to announce Database-USA
www.database-usa.com
as our newest member for the Los Angeles, California market. Database-USA has been consistently rated a top Certified Consulting firm for the region by ACT! Software, a subsidiary of Swiftpage, and had achieved the highest ACT! CRM customer satisfaction reviews in the greater Los Angeles area.
Daniel Graves, CEO of Database-USA, is an expert in installation, customization and training of ACT! CRM since its Windows inception in 1991. "My company's objective is to enable our customers to turn Prospects into Profits and Contacts into Contracts!" said Daniel. His certifications include ACT! Certified Consultant, ACT! Premier Trainer and Swiftpage Certified Consultant. Daniel has over 40 years in the computer database industry, including 20 years with NASA, and 10 years in Healthcare.
For over 25 years, companies and sales teams have been using ACT! CRM (customer relationship management) software to transform and grow their businesses. Integrated with ACT!, Swiftpage provides E-Marketing services of email marketing, social media sharing and lead qualifying tools that are designed to make business marketing easier. "We welcome Daniel and Database-USA and the level of service they provide to ACT! CRM and Swiftpage customers. All of our members are top consultants for ACT! CRM and Swiftpage E-Marketing and Daniel is a great addition to the organization," said Debora Boyle, President of The CRM Alliance.
About the CRM Alliance - The CRM Alliance is an organization of top CRM consulting and training companies. Specializing in Customer Relationship Management and E-Marketing, we provide services and software solutions for businesses to convert leads, retain customers and generate more sales. With headquarters in Phoenix, Arizona, the organization and its member firms provide local services for customers in major cities across North America. For an ACT! CRM or Swiftpage trial, a CRM & Email Marketing white paper or to find a Certified Consultant visit
www.thecrmalliance.com
.
The following businesses are ACT! Certified Consultants and members of The CRM Alliance:
Alabama: ADS Programming Services www.adsprogramming.com
Arizona: Platinum CRM Consulting www.actplatinum.com
California, Los Angeles: Database-USA www.database-usa.com
California, San Diego: Aaron's Computer Relief www.aaronscomp.com
Colorado: The CRM Connection www.thecrmconnection.com
Connecticut: Squad 16 Consulting www.squad16.com
Florida: Tech Benders www.techbenders.com
Illinois: Mondo CRM www.mondocrm.com
Louisiana: Remote Tech Group www.rtgroup.com
Maryland: Stewart Technologies www.stewarttechnologies.com
Massachusetts: Stellar Technology Consulting www.stellartech.net
Minnesota: Proactive Information Systems www.proactive-is.com
Missouri: Aviva www.thedatabasediva.com
New York: Atlantic Database, LLC www.atlanticdatabase.com
North Carolina: Atlantic Database, LLC www.atlanticdatabase.com
Pennsylvania: Capitol Computer Systems www.capitolcom.com
Rhode Island: Business Technologies of New England www.btne.com
Texas: Proactive Information Systems www.proactive-is.com
Virginia: B & B Consulting Services, Inc. www.bmeredith.com
Washington: Platinum CRM Consulting www.actplatinum.com