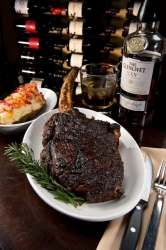 Glendale, AZ, June 05, 2013 --(
PR.com
)-- Arrowhead Grill is celebrating Arizona dads this Father's Day, Sunday, June 16, with a Father's Day Brunch that's sure to please the man of the house and a free gift that will help make him a grilling sensation the rest the year.
The Father's Day Brunch at Arrowhead Grill includes dads' all-time favorite dinner choice, steak. And not just any steak, but Arrowhead Grill's succulent Kobe New York Strip Steak, 16 ounces, or its 39-ounce, 120-day dry-aged Tomahawk Steak for $59.99 each. Starters and sides are additional.
"These steaks are going to make dads feel truly special this Father's Day," said Chef Charles W. Schwerd, owner of Arrowhead Grill. "They're not just unique steaks, each is incredible in its own right and a must-experience for dads who are true steak lovers."
Dads who dine at Arrowhead Grill on Father's Day are in for another treat. Each dad will be given Arrowhead Grill's own, secret steak seasoning in an Arrowhead Grill shaker.
"This year at Arrowhead Grill, we'll be giving dads our very own Tequila Wine Steak Seasoning to use at home on the grill," said Schwerd. "That way dads can remember the day all year long and be grilling heroes to boot."
In addition to Kobe and Tomahawk steaks, entrees such as AG's 10-ounce Delmonico Steak, 7-ounce filet mignon, 8-ounce prime rib and 16-ounce pork tenderloin are sure the make dads and sons happy and will be served as part of a 3-course Father's Day Brunch menu that includes starters and sides.
Gourmet selections like New Zealand rack of lamb, Atlantic salmon, roast chicken and exotic swordfish offer plenty of choices for moms and daughters of every age.
An 8-ounce lobster tail can be added to any entrée for $14.99.
Every 3-course brunch includes one of Chef Charles' signature side dishes, including sautéed asparagus, sautéed green beans, mashed potatoes, a baked potato, creamed corn, creamed spinach, sautéed mushrooms and onions, maple mashed sweet potatoes or AG hash browns.
Dessert will also be offered for an additional $5.99 and includes the choice of the AG's signature butter cake, vanilla crème brûlée, cinnamon cake or strawberries and chocolate fondue.
The cost for Arrowhead Grill's Father's Day 3-course brunch starts at $42.99 per person, including starters and sides.
The cost for Kobe New York Strip Steak and AG's Tomahawk Steak are $59.99 each and sides are additional.
Reservations are required and seating is limited. Reservations can be made by calling (623)566-2224 or online at www.arrowheadgrill.com/reservations.
Known as the west Valley's best steakhouse, Arrowhead Grill is located at 8280 W. Union Hills Dr. (Loop 101 and Union Hills) in Glendale.
To get the latest news on Arrowhead Grill's daily specials, follow Arrowhead Grill on Twitter at www.twitter.com/arrowheadgrill or on Facebook at www.facebook.com/arrowheadgrill.
About Arrowhead Grill
Established in 2008 by renowned Valley chef, Charles Wade Schwerd, Arrowhead Grill epitomizes Schwerd's two decades of steakhouse experience, offering Valley residents a diverse menu of top quality steak and seafood. Featuring all natural meats and fresh, mercury-free seafood selected especially for Arrowhead Grill's gourmet menu, the Glendale-based restaurant offers something for everyone in a sophisticated setting. For more information, please visit www.arrowheadgrill.com.