10,000 Babies: My Life in the Delivery Room - New Book Available by Silvio Aladjem MD
Publication of the new book "10,000 Babies: my life in the delivery room" by author Silvio Aladjem MD.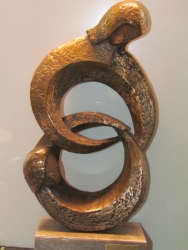 Hastings, MI, June 05, 2013 --(
PR.com
)-- "10,000 Babies" is a compilation of true events in the life of an obstetrician and his patients, presented as short stories. These stories range from those of the very early pregnancy, to the birth of triplets, from the anguish of not knowing if the baby will be born prematurely, to the unusual case where a mother thought that she was pregnant, when in reality she was not. Those that have not yet become parents or are already parents, will find in "10,000 babies" a world they did not know existed. Also included are chapters about the history of how we got where we are in the care of pregnant women, how different cultures influence childbirth, why myths surrounding pregnancy are still with us, and why those that care for pregnant women are a special breed of people.
About the Author
Silvio Aladjem MD, FACOG, FRSM, is Professor Emeritus in Obstetrics and Gynecology at the College of Human Medicine, Michigan State University in Lansing, MI. and Clinical Professor of Obstetrics and Gynecology at Wayne State University in Detroit, MI. He is Board Certified in both Obstetrics and Gynecology and the sub-specialty of Maternal Fetal Medicine. He is a member of many professional and scientific organizations, including the American College of Obstetricians and Gynecologists (ACOG) and the American Medical Association (AMA), He is the author of several textbooks of obstetrics and perinatal medicine. In addition he published extensively in professional scientific journals in the US, Europe and South America.
Kirkus Review:
"A longtime obstetrician delivers a debut medical memoir with heart... The author's prose gives space to both the medical and personal sides of obstetrics, and his literary bedside manner is both meticulous and caring, unobtrusively touching on the many philosophical and ethical questions that arise in the course of his profession... A deftly written book of medical and personal accounts of the beginning of life."
Availability: E-book, Hard and Paper copies available at: Author House Bookstore, Amazon, Barnes & Noble, and other book stores.
Book website:
www.deliveryofthebaby.com
Contact
Silvio Aladjem MD
Silvio Aladjem
269-948-4030
drsilvio.com
www.deliveryofthebaby.com

Contact