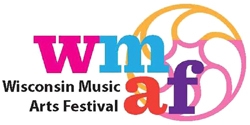 Monroe, WI, June 06, 2013 --(
PR.com
)-- On June 20, 21, and 22, Monroe Arts Center will debut the Wisconsin Music Arts Festival. This three-day, biennial festival will feature concerts, music industry presentations, and music-related workshops held in locations throughout the community, including at the Monroe High School Performing Arts Center, Monroe Courthouse Square, and at taverns and restaurants on the square for late night entertainment. Headline concerts include Wisconsin's own Michael Perry and the Long Beds, Livingston Taylor, and BoDeans.
The Festival kicks-off on Thursday, June 20 at 6:30 pm with a free, outdoor concert on Monroe's square by Michael Perry and The Long Beds. Perry is also a humorist and author of best-selling books including Population 485, Truck: A Love Story, and Coop.
On Friday, June 21, starting at 10:00 am at MHS Performing Arts Center, four presentations relating to various aspects of the music business will be led by well-known and highly-respected music industry professionals. Friday's presenters include: Live music producer and author, Tom Jackson; music technology entrepreneur and Founder and CEO of the independent music website Broadjam, Inc., Roy Elkins; and record producer and promoter, and author, Martin Atkins.
The first of two headline concerts is Friday night at 8:00 pm. Singer, songwriter, and musician Livingston Taylor takes the PAC stage. He is not just the brother of James Taylor. Livingston is a truly natural performer, peppering his shows with personal stories, anecdotes, and ineffable warmth that connect him to his fans. He has never stopped performing during his forty-year career, which includes touring with major artists such as Jimmy Buffet, Linda Ronstadt, and Jethro Tull. Opening for Taylor at 7:00 pm is singer-songwriter Pieta Brown. Her seductive voice and unmistakable style perfectly complement a unique blend of alt-country, folk, blues, and indie-rock music that speak to her fans around the world.
At 10:00 am on Saturday, June 22, the workshop session "Stage Performance" by Livingston Taylor begins the second day of the Festival. Any musician, actor, or public speaker will benefit from Taylor's real-life lessons, which are drawn from his experience on the road as a working musician, and learn how to take the stage without fear. Various other music-related time workshop sessions such as Music and Melody, Songwriting, Radio Airplay, Music Videos, Music Business, and Music Recording, will be taught by music professionals.
This popular roots-rock' group, BoDeans, headline the second concert on Saturday, June 22 at 8:00 pm at PAC. The determination and passion of BoDeans founder and front man, Kurt Neumann, has kept their blues, rock, country, and soul music going strong after a quarter of a century. They continue to tour the U. S. year-round, exposing the kids of their longtime steadfast fans to heartfelt, trend-free, American-made music. Opening at 6:30 pm for BoDeans is the Minnesota-based group, Lucy Michelle and the Velvet Lapelles. A variety of instruments, musical styles, and vocal arrangements, has helped them to become one of the most celebrated and cherished young talents to emerge from the Twin Cities in recent history.
After-Hours Concerts on the Square will take place from 10:00 PM to midnight on Friday and Saturday night at three popular venues; Baumgartner's, Bean and Barrel, and Flannagan's Shenanigans. Each location will host local musicians.
Festival packages include Friday Festival Package, Saturday Festival Package, and Weekend Festival Package, each offered with or without hotel accommodations. Friday Music Industry Presenters, Saturday Music Workshops, and Concerts Only Package, as well as individual concert tickets, are also available.