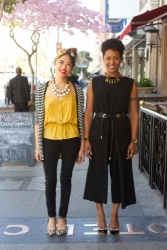 Los Angeles, CA, June 07, 2013 --(
PR.com
)-- "We never thought we'd have to relocate this soon. We've only been open for a year but we're busting out of our space with a constant flow of some surreal designer inventory from our clients. It's a great sign of growth & I'm grateful for our customers & the awesome press we've been getting," says Aquino. Buttons & Bows is a resale luxury boutique that sells gently loved vintage & modern designer merchandise. Due to Marley's & Aquino's impeccable curation of merchandise, the store has attracted shoppers from all over Southern California as well as visiting tourists alike, fueling the demand for more inventory & a much larger space.
"We're not moving far at all, just around the corner from our old location. We love Downtown & we love being a part of the revitalization that is happening here," says Marley. Aside from being fashion experts & business owners, Aquino & Marley are major leaders in growing the fashion & retail scene in the Downtown area. The two are responsible for starting Shopwalk, a DTLA community effort, along with other shop owners, in where merchants along the historic core come together to offer their customers a day of in-store events, libations, & special discounts & offerings. The pair created it to spread awareness about the growing retail businesses in their neighborhood. Aside from Shopwalk, Aquino & Marley specifically contribute to The Downtown LA Women's Shelter through their regular donations of clothes that help contribute to the effort of getting women off the streets & enter the job market.
Buttons & Bows began as a personal fashion and style blog by Monique Aquino, which evolved into a successful e-bay store that sold Marley's extensive collection of designer clothes and accessories that she no longer wanted. The e-bay business became a hit, leading to the founding of their first brick and mortar location on Main St. in Downtown Los Angeles. "Karen & I always talked about opening a store & our sales on e-bay proved to us that we could do it. We started small by opting for a humble space. That enabled us to test our market before we opted for larger store location," says Aquino. The "start small & grow big" strategy by friends and business partners, Marley & Aquino, are certainly working well in their favor.
The much anticipated opening of the new Buttons & Bows boutique on 548 S. Spring St. R#112 is scheduled to hit the historic core later this month. Aquino and Marley chose a location that's in the middle of the hustle and bustle of cafes, businesses, and other retail shops, while still remaining easily accessible to the dwellers of the Fashion and Art District. One year ago, Aquino remarked, "We really hope that it's only a short matter of time before Buttons & Bows becomes the city's destination for a service-centered resale shopping experience." This significant move proves that Aquino's hopeful wish is quickly becoming a reality.
Karen Marley and Monique Aquino will release further news and updates about the launch through their blog on www.buttonsandbowsla.com/blog, and social media outlets:
Twitter: www.twitter.com/buttonsbowsla
Facebook: www.facebook.com/buttonsandbowsla
If you'd like more information about Buttons and Bows, please visit www.buttonsandbowsla.com To schedule an interview with the owners, please call (213)-622-0648 or email buttonsandbowsla@gmail.com